Wave pools/waterparks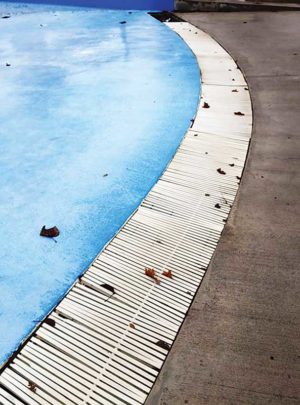 Wave pools, lazy-rivers, and waterparks in general are great beneficiaries of safety padding. With turbulent water currents that can push patrons into walls or other water features, the added padding is ideal for any area where there is a risk of swimming impact. This is often the case where water currents will pull or push small children toward a particular wall or corner.
Most facilities are aware of these areas and should take the necessary precautions by installing additional safety padding.
Grating
Many may not think the grating in gutters around the pool perimeter to be the most obvious safety hazard; however, accidents caused by broken, bent, or sagging grates can cause significant injury to bathers' hands and feet, as well as create a trip hazard. Many health codes specify the maximum space between the gratings cannot exceed 9.5 mm (0.375 in.). Those pools that have violated this code have been shutdown by health inspectors until the facility can rectify the problem.
Aquatic facilities need to have a daily inspection process in place (especially in-season) to examine all pool grating. Not only can grating crack, but the supports holding them in place can also break, causing it to sag and become a trip hazard, or an area where a bather's toe or finger can become trapped. Replacing the damaged grating immediately is the best way to ensure the pool area, and patrons remain safe.
There are several options available for pool grating replacement. In fact, some facilities install new grating in high-traffic areas every season to ensure safety. When doing so, it is a good idea to look for grating that is compatible with the existing conditions. Grating fabricated of PVC can provide a quick, cost-effective solution. It should also come with a certified slip-resistant texture.
The PVC composition is stronger and holds up better to outdoor elements. Most pool codes specify that for every 91 kg (200 lbs) of uniform weight, the grating's maximum deflection should be less than 6.4 mm (0.25 in.).
Those aquatic facilities looking for a long-term solution also have the option of using granite grating. This product, as the name suggests, is made of granite and will last for more than 30 years. It comprises a single-piece product in which the slots are fixed so there is no risk of breaking the grates during normal pool usage.
Flooring
Pool decks are often overlooked as a dangerous part of an aquatic facility. Older, cracked, or peeling decks cause injury from slippery surfaces, cut feet from cracks, or even burns from sun exposure. To rectify any one of these problems, pool decks can be entirely covered with PVC flooring. This flooring encapsulates and makes any deck area waterproof and slip-resistant.
Constructed of a thick, reinforced-PVC membrane, this flooring can be used in any recreational area where slip-resistance, watertight integrity, and long-term ease of maintenance are required. The PVC also comprises an anti-fungal formulation that is easy to clean, making it ideal for pool decks, spray grounds, or locker rooms.
Further, this flooring can also be installed over foam for added comfort in active aging applications or wherever extra fall protection is required.
Aquatic facilities that have well-constructed decks might still benefit from added safety mats that can be placed at entrances and exits of any pool type, where most slipping occurs. These textured, self-draining safety mats are designed to minimize slippage and, depending on a facility's requirements, can be provided in various sizes. Similarly, there are textured 'shower circles' that can be placed in shower areas to also help prevent slip-and-fall accidents.