Pumps
Hydraulics is probably the most important feature inside a modern hot tub. The pump(s) is considered the 'heart.' When activated, it provides high flow water pressure to all of the jets. While there are some discrepancies in how manufacturers describe pump power, most rate them using brake horsepower (bhp), which is the measure of an engine's horsepower before the loss in power caused by auxiliary components, e.g. water pump.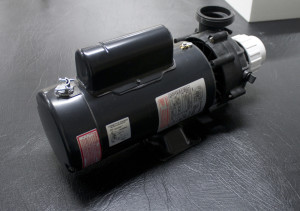 Another way to look at pumps is the amps (or energy) they use when running or starting. Modern pump designs have become very efficient with lower-amp usage and higher water flows. This allows manufacturers to use larger pumps while still keeping energy use to a minimum. In terms of jet pumps, most manufacturers are still using the larger jet pumps for cleaning and filtering; however, there are alternatives that can help consumers lower their operating costs further.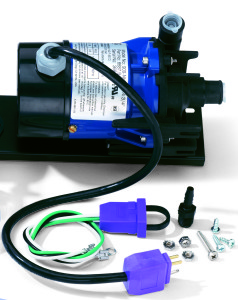 For instance, some higher-end manufactures are using small circulation pumps for water management systems instead of larger jet pumps. These pumps are integral to an energy-efficient design and help reduce overall operating costs. Small circulation pumps are called 'mag' drives because the impeller is floated using magnetic fields rather than mounted to a pump shaft. This shaft-less design not only makes them more energy efficient, but also reliable against leaks. They typically use only about 45 watts of energy and can be incorporated as part of a water management system that cleans the water 24-7 or drive the hot tub's water features.
In addition, some pump manufacturers also make special 'high-efficiency' pumps. Despite the potential energy savings these high-efficiency motors offer, they use more copper than a typical motor, which makes them more expensive. The aforementioned magnetic-drive circulation pump is also an additional up front expense. However, a well-constructed hot tub should last 15 years; therefore, when considering the additional investment for energy efficiency over the long-term, it is not only good for the environment, but also the consumer's pocketbook.
Heaters
One of the main energy-consuming components of a hot tub is, of course, the heater. Modern electrical hot tub heaters are efficient and offer consumers a safe, reliable way to keep their hot tub ready for use at any time. While most manufacturers use a 5.5-kW heater, some use what is called 'smart heat.' These units comprise three heating elements (1.6, 4.0, and 5.5 kW) rather than one. This heater is especially advantageous when hot tubs are installed with less than a 50-amp circuit. The advantage of this is when the hot tub is being used and the water starts to cool off, the smart heat system will turn on a smaller element to provide heat recovery instead of not being able to heat at all due to insufficient power when pumps are running.
Hardware/software
The brains of the hot tub have not been left out in the effort to make them more efficient and reliable. New controller and software designs allow consumers to custom program their hot tub to fit their lifestyle. For instance, the hot tub can be programmed to take advantage of 'off-peak' hours when running filter cycles so there is less of an impact on the overall household energy load.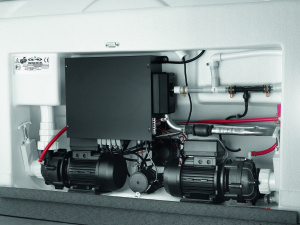 In addition, some of the newer systems even make use of smartphone apps, which allow owners to adjust water temperature, filter cycles, and other programming features remotely. Many also adapt to different user profiles; for example, increased filtration on weekends when the hot tub is used more frequently and less filtration during the week when usage might be lower.
Other systems may have an 'economy mode,' which reduces the amount of time the pumps run to check the temperature. As hardware and software continue to evolve, the modern hot tub will soon be connected with 'smart home' technologies, which will communicate with all household appliances and balance energy loads according to needs and usage.