Running efficiently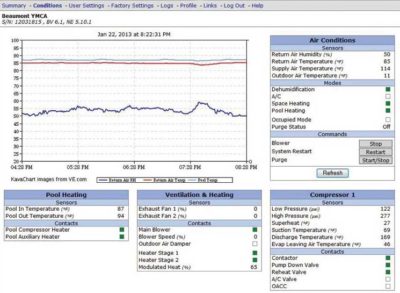 All mechanical equipment needs periodical servicing. Unfortunately for equipment and facilities as complex as a natatorium, service frequency, in many cases, is required more than once a year. There are many types of system degradations that can reduce efficiency between an annual and/or semi-annual tune-up. The situation goes unnoticed by facility management because the dehumidifier system seemingly still dehumidifies, cools, and heats the natatorium adequately.
A good example of this is refrigeration circuit pressures. Everyone has experienced an air conditioning system, whether it is an automotive or residential unit, which underperforms because it is low on gas or refrigerant. Typically, a system loses refrigerant due to a leaking coil or connection. Nearly every coil leaks at least once during its lifetime. A dehumidifier coil that has a slow leak can progress for months, sometimes a year, before uncomfortable environmental conditions in the natatorium are felt by occupants. Meanwhile, the dehumidifier operates inefficiently because the compressor will run longer or cycle more frequently. As a result, utility costs can increase dramatically before the next routine service call detects the problem.
A web browser-based software interface program will detect this type of degradation once it surpasses a threshold set point calibrated by the manufacturer or the facility manager. A low-pressure alarm, sometimes indicated as "LP-Vac" will indicate a low-pressure situation. The advantage is the facility manager is alerted to the situation the day it occurs, not months later. Instead, the system is brought back to the manufacturer's specified operating pressures before months of inefficient operation ensues.
A call to the manufacturer might help detect the cause of the low-pressure problem; however, a web browser-based software interface can further assist troubleshooting efforts in a number of ways. For instance, other sensors may have been highlighted such as a low-pressure transducer, low-pressure switch, or even a high-suction temperature caused by a unit low on refrigerant. Even though the dehumidifier is updated in real-time every minute, 24-7, its data can also be historically recorded for many days by the manufacturer's factory server. This historical analysis can be helpful when trying to spot certain trends.
Of course, a serious refrigeration problem, such as a leak, cannot be resolved by the facility's maintenance staff if they do not have the proper certification; however, the factory diagnosis can be invaluable for saving troubleshooting time for a local HVAC service contractor with little to no natatorium dehumidifier experience.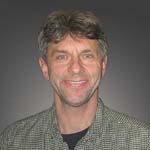 Ralph Kittler, P.Eng., is co-founder and vice-president of sales and marketing of Seresco Technologies Inc., an Ottawa-based manufacturer of natatorium mechanical dehumidifiers and outdoor air ventilation only systems (OAVOS). He has 25 years of experience in the heating, ventilation, and air conditioning (HVAC) industry and a degree in mechanical engineering from Lakehead University in Thunder Bay, Ont. Kittler serves on the Model Aquatic Health Code (MAHC) advisory board of the Center for Disease Control (CDC), as well as two technical committees of the American Society of Heating, Refrigerating and Air-Conditioning Engineers (ASHRAE). He recently produced a free 'Professional Development Hour' (PDH) video available at www.serescodehumidifiers.com, which targets the continuing education requirements for engineers, but also serves as an invaluable primer of indoor pool design and operation basics for facility managers. He can be reached via e-mail at ralphkitter@serescodehumidifiers.com.