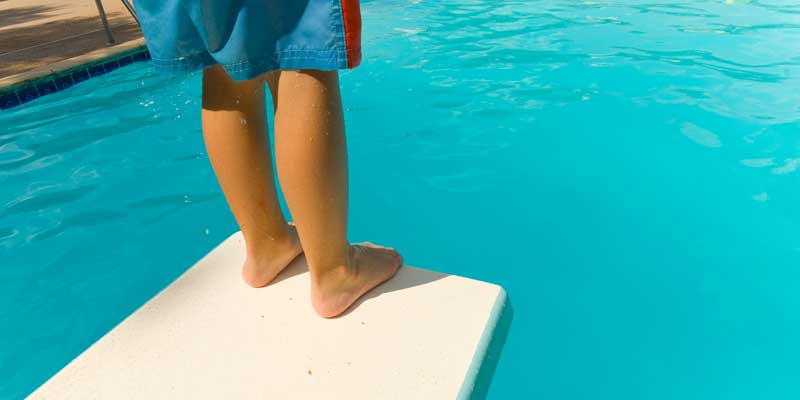 The use of diving boards has been banned at all public pools in Beaconsfield, Que., a west island municipality of Montreal. A recent provincial government audit determined them to be a hazard under the new safety requirements imposed on private and public pools by the Government of Québec.
Over the past year, the pools were audited in close collaboration with volunteer administrators of three public outdoor pool organizations in Beaconsfield to ensure the quality and safety of the public facilities. The pools at the Lord Reading Yacht Club and the Recreation Centre, as municipal facilities, also underwent a similar review, resulting in the implementation of necessary corrections.
Working closely with the Lifesaving Society of Québec, the province's authority for safety and aquatic regulations, and numerous other professionals with respect to structural engineering, legal, and insurance expertise, the assessments and procedures were undertaken with the specific goal of maintaining all sport activities in the municipal facilities, including the use of diving boards.
In response to the decision, public pool administrators, along with the city, checked with specialists to see if the diving boards could be repositioned, as well as examined the possibility of excavating the pools, or raising the sidewalls, to reach the required depth. However, all possible scenarios examined by architects, as well as legal advisors, lead to the same conclusion—the pools have to be rebuilt to permit the use of diving boards. The minimum depth of pools with diving boards built before 1977 is 3 m (9.8 ft). Pools installed after 2013 must be 3.4-m (11.2-ft) deep. That said, the new government standards prohibit any modifications and the $3 million price tag to rebuild each community pool is not in the budget.
"The safety of everyone is our priority in the management of the public pools, as it is for the volunteers who, with merits, assume the management of the facilities and the vitality of the activities that take place there," says the Mayor of Beaconsfield, Georges Bourelle.
As a result, the city has agreed with the administrators of each pool association to prohibit the use of diving boards to guarantee the safety of bathers and to respect the civil liabilities of the concerned parties.