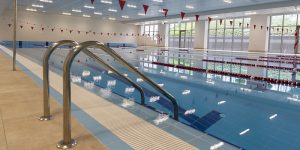 The Newfoundland and Labrador government recently announced approximately $600,000 in funding to support community pools and arenas throughout the province.
The funding is intended to assist municipalities which encountered additional expenses and lost revenue as a result of COVID-19 and will be provided based on reported loss of revenue or operational assistance.
The funding was approved through the Special Assistance Grant program to provide a one-time grant of up to $10,000 for municipalities, registered non-profits, private organizations, or partnerships operating pools or arenas.
Each municipality will receive one grant to be distributed at its discretion to a facility in its community.
Registered non-profits will be eligible to apply independently but must provide proof of their status. A Special Assistance Grant application is required to be submitted for all interested parties.
"It has been a challenging year for everyone in our province. Our government is supporting municipalities and organizations during this time by each department working collaboratively as we discuss matters related to municipalities. Through the 2020 budget, our government has maintained funding for communities as we navigate through this pandemic. We know there is much uncertainty this year and we are here to help," said Derek Bennett, provincial Minister of Environment, Climate Change and Municipalities.