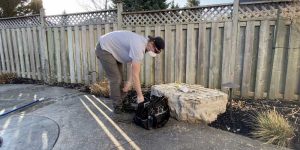 With Premier Doug Ford announcing seasonal businesses will now be allowed to operate in Ontario, the Pool & Hot Tub Council of Canada (PHTCC) sees this as a "green light" to resume the construction of new pools.
With emergency orders in Ontario previously extended until May 19, PHTCC continued to communicate with government officials for clarity on the 'essential businesses' list regarding the pool and spa industry.
Prior to this announcement, a letter from PHTCC executive director Bill Roberton, advised members opening and maintaining pools and spas fit under the following section on the 'essential business' list: Maintenance, repair, and property management services strictly necessary to manage and maintain the safety, security, sanitation, and essential operation of institutional, commercial, industrial, and residential properties and buildings.
PHTCC members providing these services continue to obey Ontario's physical distancing guidelines as follows:
Ensure the customer stays indoors while the technician(s) are working onsite;
Maintain a physical distance of 2 m (6.5 ft) from co-workers and all others;
Wear all necessary PPE (personal protective equipment); and
Sanitize all surfaces and areas workers have been in contact with while providing these services.