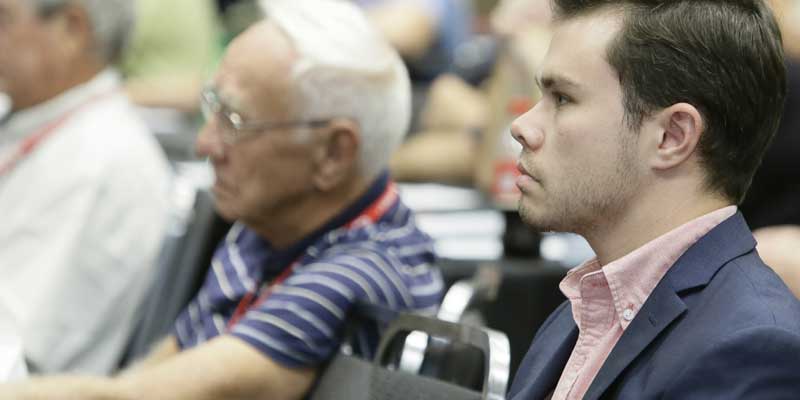 The schedule for the Association of Pool & Spa Professionals (APSP) University certification courses and training for the 2018 International Pool | Spa | Patio Expo in Las Vegas has been released.
This year's three-day certification courses, which are geared towards pool and spa builders, designers, service providers, and retailers, will include:
Pool & Spa Construction Course (PSCC), which is directed at both novice and experienced pool and spa builders, as well as designers looking to learn more about pool and spa construction. Led by Rick English, CBP, of English Consulting, this course will guide students through the APSP Builders manual and offer key information to conform to industry standards and prepare for the Certified Building Professional (CBP) exam.
Certified Service Technician (CST) course, which is directed at experienced pool and spa service repair technicians looking to complete their skill set. This course, led by Frank Goldstein, CST, CBP, of Chesapeake Aquatic Consultants, provides an overview of circulation, filtration, hydraulics, and electricity and also explores common problems with pool finishes and strategies to repair them.
Certified Pool & Spa Maintenance Specialist (CMS) course, designed for those new to the pool and spa industry or who work a pool maintenance route. Led by Paul Wahler, CSP, of Pool Service Company, this course will help students gain an understanding of pool safety, circulation and filtration, pool maintenance, and water quality. Additionally, attendees will learn about electrical systems, pool structures and finishes, heaters and controls, and customer service. The course will guide students through the APSP Service Tech manual and help them prepare for the CMS exam.
Certified Pool & Spa Hot Tub Technician (CHTT) course, designed for those who service and repair hot tubs. Instructed by John Schaedler of Aqua Quip, this course will provide students with practical knowledge on servicing and troubleshooting factory-built portable hot tubs. Additionally, attendees will learn the essentials of hot tub and spa water chemistry, electrical systems, and circulation and filtration, as well as tips and tricks for repairs to interior surfaces. The course will take students through the APSP Hot Tub Technician manual and help them prepare for the CHTT exam.
Students who complete the PSCC, CST, CMS, and CHTT certification courses will have the option to take the exam on-site or at a PSI computer testing centre near their home.
APSP University will also offer a Professional Pool & Spa Operator (PSSO) course, led by Scott Heusser of Idaho Pool Remodeling, which will include a certification exam. Students enrolled in this one-day hybrid class must complete the online PSSO course prior to attending the expo. This program, geared towards commercial pool operators, managers, health officials, manufacturers, retailers, and facility owners, allows students to gain an understanding of safety, basic water chemistry, pool circulation and filtration, pool and spa maintenance, and water quality. Attendees will also learn about record-keeping, pool match calculations, contamination procedures, water testing, and routine and preventative maintenance. It will also guide students through the PPSO manual, preparing them for the PPSO certification exam.
Additionally, Goldstein will lead a one-day Train the Trainer (TTT) course. Open to current Certified Pool & Spa Building Professionals (CBP) and Certified Pool & Spa Service Professionals (CSP), this workshop will offer students practical skills and tips to teach these APSP University courses. New instructors will gain a strong foundation in critical training skills, while seasoned trainers will be introduced to new approaches for delivering effective training.
A number of APSP University presentations will also be available, including:
Swimming Pool Construction Techniques, presented by Rick Woemmel, CBP, CSP, of Bi-State Pools & Spas;
Protecting Your Company from Workplace and Employment Liability, presented by Steven Getzoff of Lester Schwab Katz & Dwyer;
Portable Hot Tub Troubleshooting 101, presented by John Schaedler of Aqua Qui;
How to Sell the Importance of Proper Water Chemistry to Your Customers, presented by APSP Recreational Water Quality Committee members Joseph Laurino, PhD (Periodic Products), Greg Garret (Applied Materials Technologies), and Kenneth Gregory (Pentair Water Quality Systems); and
How to Build, Renovate, or Repair Pools and Comply with APSP Standards, presented by Kenneth Gregory.
Registration for APSP University courses at this year's International Pool | Spa | Patio Expo, which is taking place at the Mandalay Bay Convention Center between Oct. 28 and Nov. 3, is now open. All education seminars require registration. For more information about APSP University in-person, live virtual, or online self-paced courses, e-mail APSP University at APSPUniversity@apsp.org.