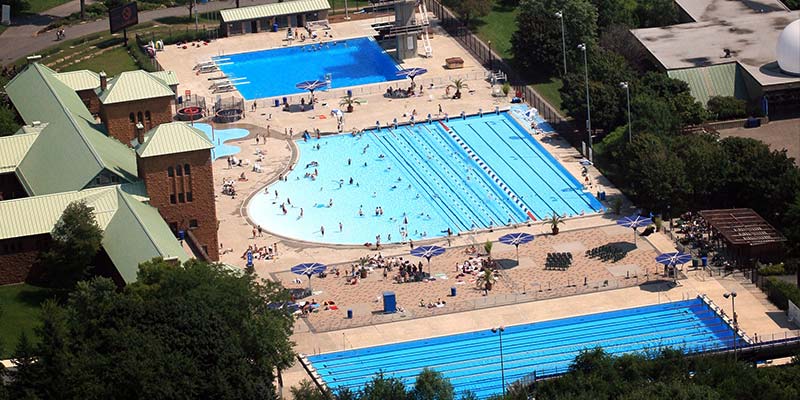 This summer, as announced by Montreal's Société du Parc Jean-Drapeau (SPJD) in 2017, the three pools at the park's aquatic complex will reopen to the public on May 19.
Now that the major excavation work conducted alongside the pools is completed, bathing, swimming, and diving enthusiasts will be able to visit and have fun in any one of the competition, plunge, and/or progressive-slope recreational pools, while enjoying the recent renovations at the aquatic facility.
In an effort to enhance the poolside environment, new shaded areas will be set up between the pools to allow patrons to cool off when they are not in the water. The installation of triangular stretched shade sails will provide swimmers with protection from the sun. These areas will also have vegetation with the addition of potted flowers and shrubs, creating a friendly ambiance and tropical setting.
Inside the aquatic complex, the steel lockers in the men's and women's change rooms will be replaced by new lockers made of sturdier and more durable materials, such as high-density polyethylene (HDPE) plastic-recycled materials, which also meet hygiene standards.