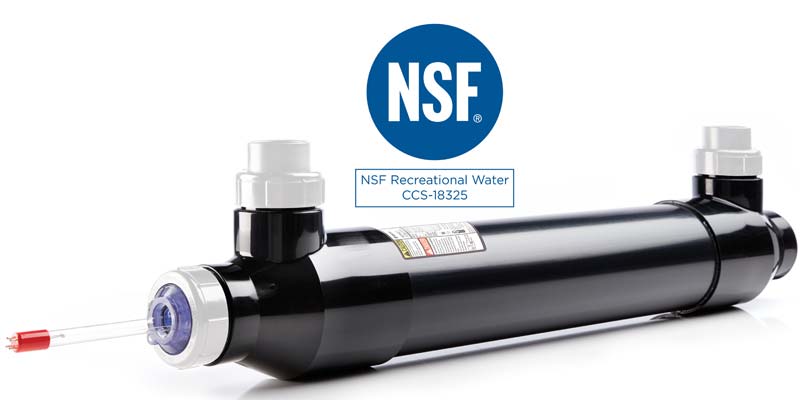 One of Pentair's ultraviolet (UV) light disinfection systems has received NSF International approval as a water-conditioning device suitable for chloramine reduction in most commercial pool applications.
Under component certification specification (CCS) No. 182325, the company's BioShield UV system is considered a reliable method to help maintain a safe and efficient pool operation. The product works to provide clean water and air conditions that help ensure a safe and healthy swimming environment. In addition to instant and ongoing protection against chlorine-resistant micro-organisms such as Giardia and Cryptosporidium, the unit's low-pressure UV lamp offers up to 12,000 hours of continuous operation and reduces chlorine usage by up to 50 per cent while eliminating chloramines to improve the air and water quality of aquatic facilities.
"We are pleased to now offer an affordable, dependable UV product that is approved for use in hotel, motel, apartment, or condominium (HMAC) aquatic complexes and will help to safeguard pool environments," said the company's director of compliance and safety, Ken Gregory.
To earn NSF International approval under CCS-18325, the UV system underwent testing and evaluation to verify it met the requirements for use in treating pool water (the unit was not evaluated for supplemental or secondary disinfection). Pentair's manufacturing facility was also audited to verify compliance with the standard requirements. As a result, the company's UV system and related marketing materials can now carry the NSF CCS-18325 approval mark, and are now listed on the third-party certification body's website.