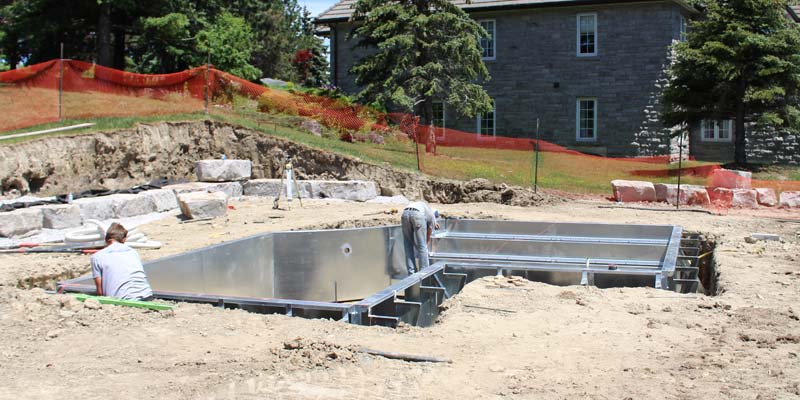 Unlike the hot summer experienced during the 2016 pool installation season, the weather in 2017 was drastically different, resulting in a 7.5 per cent year-over-year decrease in Canadian pool permit registrations.
It was not all negative, however, as permits were trending higher in 2017 between January and April then the year prior, which was likely a result of the surge in pool installations spilling over from summer 2016. These numbers showed homeowners were ready to spend their money to spruce up their outdoor living spaces but, sadly, the industry and the consumers who enjoy its products can only endure so much bad weather.
According to Environment Canada, despite last year's cooling effect, to some degree, many would be hard pressed—except those in the West—to believe 2017 was still one of the top 10 warmest in the last 70 years.
In fact, when looking at the regional break down of these statistics—especially over a three-year period (2015, 2016, and 2017)—a teeter-totter pattern between western and eastern parts of the country becomes apparent. For instance, similar to the permit registrations in 2015, pool builders in western Canada had a great year in 2017 (after being down in 2016), while it was the opposite for those in central and eastern parts of the country. Permit registrations in western Canada were up 20 per cent over 2016, and down eight per cent year-over-year in central and eastern Canada.
Due to these weather anomalies, a common trend over the past few years has seen pool construction projects extend later into the year. Permit registrations between September and November 2016 highlighted this and although these figures were down during the same period last year, it did not mean there was no work to do. For instance, Dave Warren of Total Tech Pools & Leisure in Oakville, Ont., said once the weather co-operated, the season was extremely busy late into the fall.
Despite the typical winter temperatures and snowfall experienced across the country in 2017-18, many builders are confident about the season ahead.
"We maintain a positive outlook for a more standard spring with the hope that our 2018 season will be more predictable than last year," said Dan Thurtell of Solda Pools in Brampton, Ont. "However, we are always prepared to innovate and adapt should the weather revert back to what we saw last season."
Ashley Payne of Ottawa Pool Services in Ottawa shares a similar perspective on the coming season.
"We are anticipating a profitable and busy season," said Payne. "The calls/e-mails came in earlier than expected this year and we're hoping for an early spring. We already have projects booked and are hoping this momentum continues as the snow melts. Our fingers are crossed for a warm summer."
For a complete report on the state of the Canadian swimming pool industry, watch for the April 2018 issue of Pool & Spa Marketing.