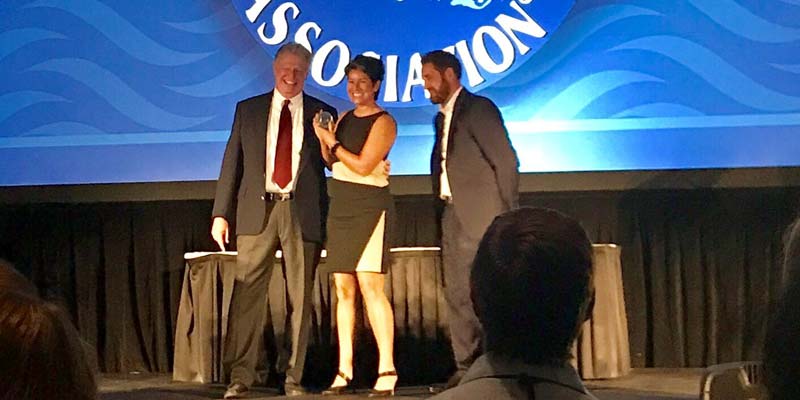 Two waterpark projects by WhiteWater West Industries, a Richmond, B.C.-based waterpark and attractions manufacturer, along with one of its executives, was recently recognized at the 2017 World Waterpark Association (WWA) show.
Leading Edge Awards, which are presented to individuals and parks for creativity in the development of new themes, facilities, programs, services, or products and operational concepts in the water attractions industry, were presented to the company in recognition of work performed on waterparks in China and the United States.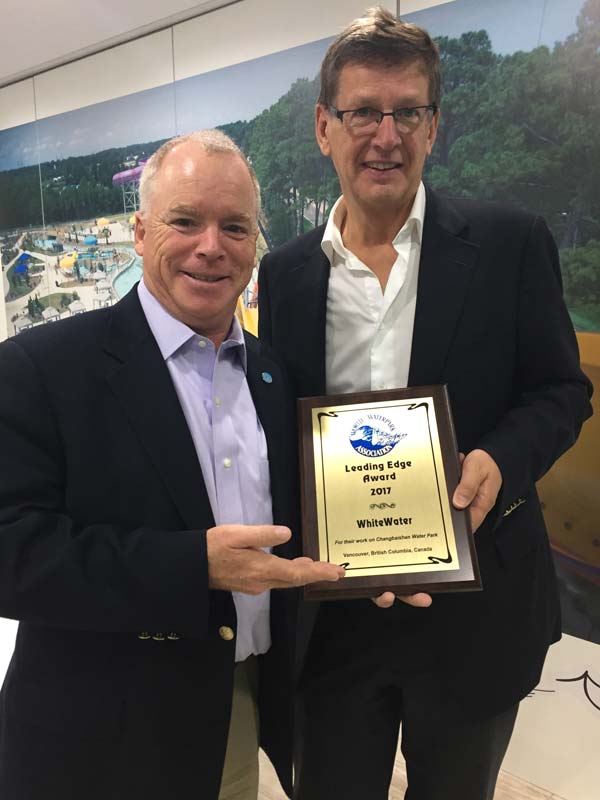 WhiteWater provided Wanda's Changbaishan Water Park in China with 14 attractions, ranging from kids' slides to high-thrill attractions. Since its opening on Aug. 1, 2016, this year-round waterpark has seen tremendous growth. The latest project from Wanda Group is located at their Changbaishan International Resort, and encompasses 2 ha (5 acres), featuring unique treehouse theming, including a custom-themed interactive water play attraction.
The second award-winning project was Morgan's Inspiration Island splash park in Texas. This innovative waterpark shows the industry how it is possible to achieve inclusivity for all abilities to enjoy water play together. The park is organized around six areas, each outfitted with a tropical theme, and features five custom-themed, fully-inclusive splash pads and an Americans with Disabilities Act (ADA) accessible water transportation system.
"No detail has been too big or too small, from adding a specially-designed spiral graphic to tipping buckets so that hearing-impaired guests will know when to wait for the downpour of water to creating waterproof wheelchairs for guests. It's been inspiring to see how much care and consideration the people at Morgan's have put into this park," said WhiteWater's chief business development officer, Paul Chutter.
In addition to these awards, WhiteWater's executive vice-president of the Americas, Franceen Gonzales, was inducted into the WWA's hall of fame, while the company's Typhoon Texas project received an Executive Board Award during the show's general session, both being recognized for excellence in leadership, safety, innovation, and training.
Gonzales has dedicated her career to making waterparks safer places to have fun—she is a member of the International Association of Amusement Parks and Attractions (IAAPA) safety committee, sits on the ASTM International board, and is currently serving on the board of directors of Amusement Industry Manufacturers and Suppliers (AIMS International) and the National Swimming Pool Foundation (NSPF).
Her passion for operations stems from her in-park management experience, having previously been the vice-president, risk management and waterparks, for Great Wolf Resorts where she held responsibility for the company's 12 waterpark resorts in North America. Prior to joining Great Wolf Resorts, Gonzales was park director for Hurricane Harbor at Six Flags Great Adventure.
"We are honoured to count Franceen as one of us at WhiteWater," said Chutter. "She represents much of what makes us great to work with, she is dedicated and passionate, and a true expert."