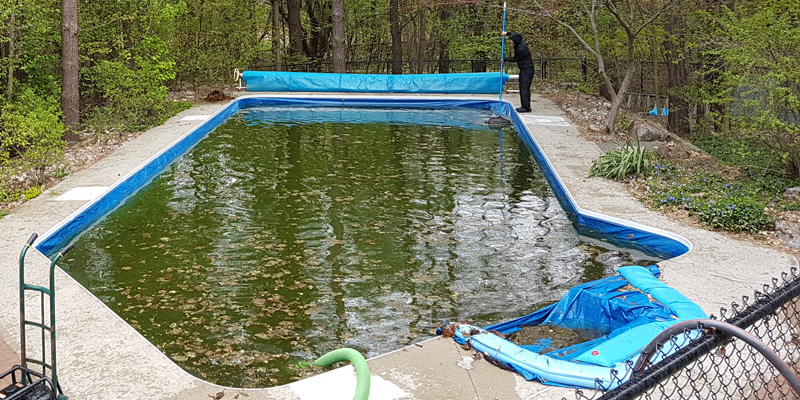 In an attempt to fight the spread of COVID-19, Ontario's mandate to close all non-essential businesses for two weeks has some in the aquatics industry questioning where they fit.
The closures were announced by Premier Doug Ford on Monday and take affect Tuesday (March 24) at 11:59 p.m. While the current list of "essential businesses" that may remain open for the next 14 days during the COVID-19 pandemic comprises specifics for some businesses/sectors, the Pool & Hot Tub Council of Canada (PHTCC) feels it also leaves some open to interpretation.
"We are currently seeking further clarity on behalf of the pool and spa industry," said PHTCC president, Crystal Lengua. "Although this situation is changing rapidly, we are continuing to take steps to reach federal, provincial, and municipal governments and top health authorities for clarity on essential versus non-essential services, and to advocate for our industry's important role in disease prevention through ongoing water quality management."
The PHTCC believes businesses in the aquatics industry qualify as 'essential' under the following categories as written by the Ontario government:
(2) Businesses engaged in the retail and wholesale of food, pet food and supplies, and household consumer products necessary to maintain the safety, sanitation, and essential operations of residences and businesses, including grocery stores, supermarkets, convenience stores, markets, and other similar retailers.
(13) Businesses that provide support and maintenance services, including urgent repair, to maintain the safety, security, sanitation and essential operation of institutional, commercial, industrial and residential properties and buildings, including property management services, plumbers, electricians, custodial/janitorial workers, cleaning services, security services, fire safety and sprinkler systems, building systems maintenance and repair technicians and engineers, mechanics (e.g. heating, ventilation, and air conditioning [HVAC], escalator and elevator technicians), and other service providers who provide similar services.
(28) Construction work and services, including demolition services, in the industrial, commercial, institutional, and residential sectors.
(70) Businesses that support the safe operations of residences and essential businesses.
The list of 'essential businesses' in Quebec was also released. The closure of non-essential businesses in each province will be reassessed after the 14-day period with the possibility of extending the order as the situation evolves.
In Ontario, businesses that continue operations with employees working remotely, or through other contingency measures, are being given approximately 36 hours to prepare and adapt. Essential services may continue their operations to maintain supply chains and ensure everyone has access to basic necessities.
"Based on the briefing from Premier Doug Ford, the key takeaway for all businesses is the health and safety of workers and customers are the top priority," said Lengua. "The government expects businesses to make adjustments to comply with social distancing and other precautions outlined by the ministry of health (PPE, sanitizing etc.).
"He mentioned the list is flexible and they are open to adding/removing essential status as the days go on, but for now it looks like we are able to remain open with proper precautions in place."
One Ontario-based pool builder is doing just this. According to Frank Blanchet, president of Betz Pools Ltd., in Stouffville, they are doing their best to comply with the government's request that construction and home maintenance businesses continue to operate and support the economy.
"We have had meetings with our staff and established guidelines for working safely, including keeping a proper distance from each other and our customers," said Blanchet. "We have instituted all the recommended precautions for disinfection and social distancing at our offices and at customer properties. We have also informed our customers about our new safety procedures and are asking them to do their part."
Another precaution the company has taken is closing its store. They are encouraging customers to place orders online and they will deliver. Customer water samples can also be left at the store entrance and Betz Pools will email the test results.
"So far, so good," said Blanchet. "Things are going as planned and we will continue to monitor the guidelines of our governments and do our part to help keep everyone safe."
Michael Willis of Roger Willis Pools & Landscapes agrees and believes some segments of the swimming pool industry should be deemed as essential services.
"Swimming pool maintenance and service work should continue to be certain both residential and commercial swimming pools remain sanitized and operating at safe levels, he said. "Routine maintenance and seasonal operations of pools such as spring openings should also continue to combat other potential issues such as stagnant water, which could create further waterborne viruses and the breeding of disease carrying insects such as mosquitoes."
In this regard, the PHTCC will be getting the message to key authorities that companies who provide pool and hot tub maintenance and service, that are currently constructing a pool or spa, or are supplying the sanitization and disinfection materials should be considered essential and be able to stay open while observing top standards on social distancing in all aspects of their operations. The association is also distributing COVID-19 best practices guidelines and industry information to ensure businesses and their customers stay safe and healthy while continuing to care for pool and hot tubs in a responsible manner.
Looking forward, once health authorities get the COVID-19 pandemic under control, it will be important for businesses to understand how market will have changed, said Steve Leslie, the customer service manager for Highbury Pools, a manufacturer and distributor of pool products in London, Ont.
"More people are going to be focused on the 'staycation' rather than the regular vacation, and will also have access to cheaper money in order to create their backyard oasis," he said. "If you can get past the doom and gloom of the current situation, and look for the opportunities that have been created as a result, your company will be in a position to prosper while others are doing nothing. Therefore, it is important to find a way to compete where others can't, or won't, while staying safe and healthy."