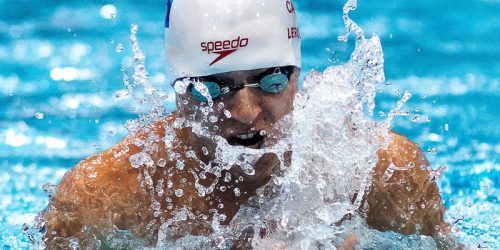 Canadian world champions Kylie Masse and Maggie MacNeil each launched their Olympic season with wins at the opening event in the Pro Swim Series circuit.
In the women's 100-m backstroke, Masse clocked 59.88 seconds for the victory. Kennedy Goss of Toronto placed eighth.
"Coming in here, I didn't really know what to expect of myself," said Masse. "I just came off a training camp in Florida for the past week and didn't really know where I was going to be at, but it's great to get long-course racing in, especially early on in the fall."
In the women's 100-m butterfly, MacNeil was fourth at the turn, but finished first in 57.64 seconds— the fastest in the world so far this season.
"I'm now more motivated than ever," said MacNeil. "I just need to keep this going throughout the season."
There were also two fourth-place finishes for Canada on the men's team. Josiah Binnema of Swimming Canada's High Performance Centre- (HPC) Vancouver was fourth in the 100-m fly and Eli Wall of Toronto placed fourth in the 200-m breaststroke.