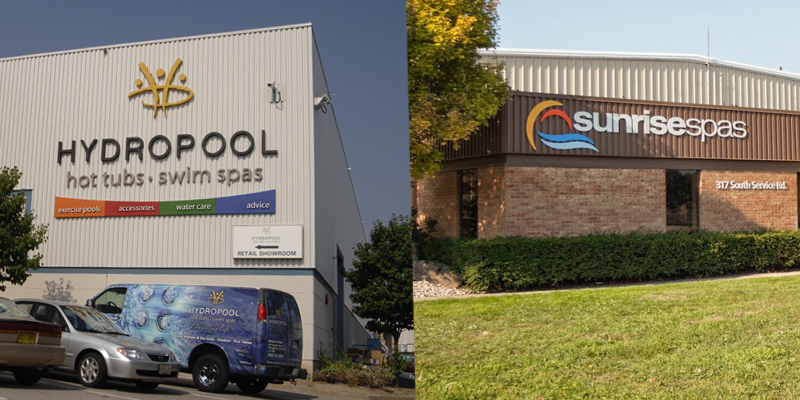 In a groundbreaking development within the Canadian hot tub and swim spa industry, Mississauga, Ont.'s Hydropool has announced a manufacturing merger between Hydropool Hot Tubs and Swim Spas and Sunrise Spas.
The two manufacturers combine to bring nearly a century's worth of leadership, intellectual property, and industry experience in the Canadian hot tub and swim spa sector. The goal of the merger is for both brands to become stronger by enhancing the production process efficiency for both manufacturers.
"When we saw the chance to work closer together—and deliver significant manufacturing efficiencies out of that closer relationship—the deal became an easy one for both sides," says Hydropool president and general manager, Dan Love. "We want to build and ensure a strong future for Sunrise and Hydropool. This is an exciting opportunity for anyone involved in either company."
While the two manufacturers are joining forces, most current elements will remain in place. Retailers should continue to find the same high level of service and support.
Sunrise production and assembly will gradually shift over the next year from Grimsby, Ont., to Hydropool's location in Mississauga. This change will be implemented at a reasonable pace to ensure minimal disruption for all retailers involved.
The Sunrise brand family will continue as both entities merge, aiming to enhance the strength of both brands without one overpowering the other. Dealers will maintain their existing relationships with Sunrise Spas' customer service, sales teams, and senior leadership. Further, parts will continue to come directly from Sunrise and the warranty will continue to be serviced by Sunrise as well.
"This is a change that makes sense for everyone, especially considering the current economic climate each company has found itself in," says Love. "We both will be better placed for the future with more efficient operations and increased manufacturing capabilities."