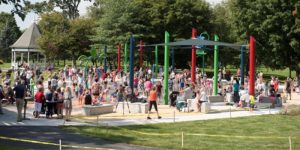 In response to New Brunswick's COVID-19 recovery plan, Fredericton city staff have determined the Wilmot Park Splash Pad and the nine wading pools operated by the municipality will remain closed for the summer.
According to a city news release, officials said they recognize these facilities are important recreation destinations for families, and the decision to close them was made after careful consideration and was based on challenges to operate them safely within a reasonable budget.
Although splash pads can be opened according to the province's current recovery phase, they can only do so if physical distancing of 2 m (6.5 ft) can be maintained. City staff considered a number of scenarios under these guidelines, but ultimately decided physical distancing cannot be reasonably ensured given the young user group, many high touch surfaces, and water features that encourage children to gather.
It is also difficult to create a perimeter to limit gathering in and around the splash pad and to limit entry. Wading pools pose similar challenges in managing physical distancing.
The city has decided instead to invest its staffing and financial resources into opening the Fredericton Indoor Pool, Killarney Lake Beach, and the city's four outdoor pools. Each of the outdoor pools will be modified to create a wading pool type section to compensate for the closure of the wading pools.