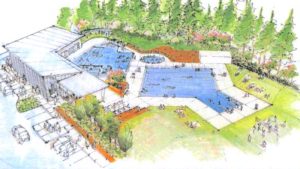 More than $12 million in government funding will be invested into rejuvenating an aging outdoor pool in Coquitlam, B.C.
As reported by Daily Hive, the Spani Outdoor Pool will receive $2.4 million in federal funding, $2 million from the province, and $8 million from the city.
The pool, which is more than 50 years old, will see its 25 m (82 ft) lap pool renovated.
Under the current plan, there will be a secondary pool constructed including a shallow beach area, lazy river, and splash area for leisure swimming.
A new whirlpool and shade structure with seating would be added, along with a new larger building containing changerooms, concessions, staff and storage spaces, and a new main entrance into the facility; the existing building to the south will be demolished.
Lastly, improvements will be made to both pedestrian and vehicular pathways.
The planned design calls for solar thermal preheating for showers and sinks, but not the pool water, which will be reportedly heated by high-efficiency gas boilers.
"For generations, Spani Pool has offered a place for everyone from children to seniors, and competitive swimmers to recreational visitors, to stay active and enjoy the natural outdoor setting surrounding the pool," said Teri Towner, the acting mayor of Coquitlam. "We thank our federal and provincial partners for their contributions to the renewal project. This funding allows Coquitlam to reduce the financial burden on taxpayers while ensuring this important community asset is upgraded to offer improved accessibility and features that will better serve citizens for many years to come."
Public consultation on the proposed redesign of the pool will begin this fall. If approved, it is estimated a draft final design will come to city council for approval next summer.