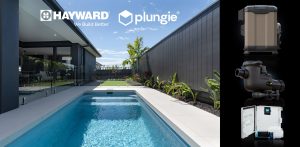 Hayward Holdings, Inc. (Hayward) has achieved an agreement with Plungie to outfit all future installations in North America exclusively with Hayward pool equipment.
Equipment emphasized within the deal includes Hayward's line of pumps, the Omni automation platform and app, and AquaRite S3 salt chlorinators.
Founded in Australia in 2018, Plungie's revenue growth has propelled the company far beyond its Brisbane headquarters as an international player in the creation of precast concrete "plunge" pools up to 20,411 L (5400 gal). The pool fabricator recently opened an ISO-accredited manufacturing facility in Dallas, Texas. Two additional facilities are expected to open across the U.S. in 2022.
"We're very excited to begin this new adventure with Plungie," commented Albert Miller, vice-president of sales for Hayward. "Plungie delivers the same ease and convenience for the pool that Hayward delivers for the pad, and I really believe the partnership will allow us to accelerate growth for our respective businesses to meet the increasing demand from our trade professionals and the end consumer."