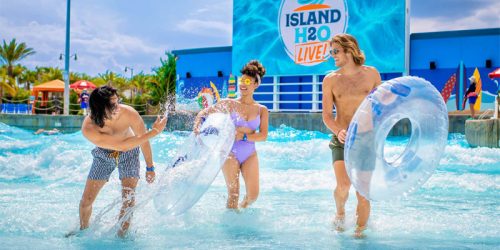 Island H20 Live waterpark has opened in Flordia.
The tropical-themed waterpark was designed and built by Aquatic Development Group (ADG) and is situated on 4.6 ha (11.5 acre) and hosts more than 15 water attractions.
Island is the first park to feature WhiteWater's Vantage technology to enhance the guest experience through social interaction and the ability to personalize stays at the park.
The waterpark features a 2229.6-m2 (24,000-sf) dual-beach wave pool powered by ADG's Wavetek generation technology, a 396.2-m (1300-ft) long lazy river with a 46.4m2 (500-sf) apron beach entry, an activity pool featuring basketball, a river crossing, an interactive multi-level play structure, a shallow kids activity pool with play features, and nine water slides.
The waterpark also features an adults-only area with a 232.2m2 (2500-sf) formal pool.