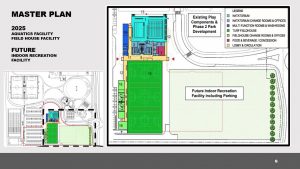 Construction of the new aquatics and indoor field house at RBJ Schlegal Park in Kitchener, Ont., has received approval from council, despite the project's $93 million price tag.
According to a report by The Record, the project was originally estimated at $39 million in 2019. Since then, the price has more than doubled due to several factors—inflation, an increase in the facility's size, and energy-efficient features which have a larger upfront cost.
The federal and provincial governments are contributing nearly $18 million to the project, with the remainder of the costs expected to be covered by development charges and grants.
Council says the amenities can serve the entire city and attract new residents and potential economic opportunities to the area.
The plan calls for a 4181 m2 (45,000 sf) aquatics centre with an eight-lane pool and a warm-water leisure pool, plus a field house with artificial turf. The project is anticipated to be completed by 2025.