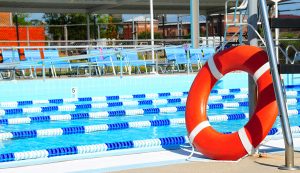 Moose Jaw, Sask., city council was caught in a debate at a recent meeting over whether the municipality's new outdoor pool should be 25 m (82 ft) or 50 m (165 ft) in length, but decided to keep with the original plan and build a 25-m pool.
According to a report from DiscoverMooseJaw.com, representatives from the Kinsmen Flying Fins Swim Club made their case to council for a 50-m pool. This would be the same size as the current Phyllis Dewar pool, which the project aims to replace.
The current concept plan for the new outdoor pool is 25 m.
Flying Fins president Rick Johns explained there are two competitive swim seasons: the short-course season and the long-course season.
"It's really important to also understand that with a long-course pool, that's where all the major swimming events occur, such as the Man-Sask Interprovincials, the Western Canadian Championships, the Junior Championships, Olympic Trials, and World Olympics," Johns said in the report.
The short-course season takes place during the winter in a 25-m pool, during which time the Flying Fins utilize the Kinsmen Sportsplex pool. Summertime brings the long-course season, which takes place in a 50-m pool.
Johns said in the report there are only three outdoor Olympic-sized pools left in Canada, and Moose Jaw's is one of them.
Director of parks and recreation Derek Blais said there are currently five 50-m pools in Saskatchewan. However, he said Swift Current has plans to replace their 50-m pools with 25-m pools, and Prince Albert is currently designing a new 25-m pool—which would just leave Saskatoon and Regina if Moose Jaw moves ahead with a 25-m pool.
Blais pointed to the cost of having a 50-m pool as to why communities are moving away from the larger size.
City council approved the application to the Investing in Canada Infrastructure (ICIP) for $6.5 million. The plan is to have the new pool in place and operational by July 1, 2025.