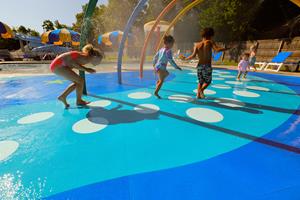 National Sanitation Foundation (NSF) International is taking steps to make recreational splash parks and water venues safer.
A new section of NSF/American National Standards Institute (ANSI) 50: Equipment and Chemicals for Swimming Pools, Spas, Hot Tubs and other Recreational Water Facilities, establishes minimum criteria for safety flooring at interactive water play venues, and is required by most commercial swimming codes. The update to the standard is intended to improve safety by addressing health effects, slip resistance, impact attenuation, imperviousness, and cleanability and durability of flooring surfaces at splash pads and other types of recreational pool and water venues.
In 2016, the NSF/ANSI 50 Joint Committee started looking into a request to develop a new portion of the standard to address safety surfacing for interactive water play venues. The board is an impartial consensus-based standards development group comprised of a balanced number of representatives from regulatory, industry, academic, and consumer groups.
After three years of standards writing, method development, and verification, the committee validated and approved the new section.
Life Floor, a foam-rubber flooring tile that is designed for use in barefoot wet traffic areas, is the first product to be certified under the new section of the standard and bear the NSF/ANSI 50 mark.
"Life Floor is proud to be accredited to NSF/ANSI 50 because it gives operators confidence that our flooring solution is engineered to last and function in water play spaces," said the company's CEO, Jonathan Keller. "Our company is founded on a mission to make all aquatic areas beautiful and safe, which is why we determined four years ago to help develop criteria for aquatic safety surfacing."