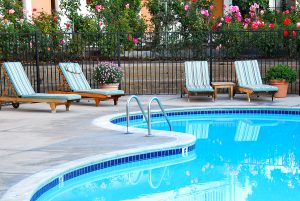 Business continues to boom for pool builders as homeowners across Canada install pools in their backyards during the COVID-19 pandemic, according to a CBC News report.
According to Statistics Canada, there was a log of 18,820 applications for pool permits in 2020. The tally for 2021 eclipsed the 2020 figure in the first eight months of the year. By August 2021, Statistics Canada says 19,306 pool permits had been logged.
Last year the majority of pool permit applications were in Quebec, which had 13,625. Ontario was second with 3400 and British Columbia was third with 591.
As a result, many pool and hot tub builders and installers are booked into 2022 or beyond in Canada.
Harmony Pero's family in Anmore, B.C., is just one among this country-wide boom. Pero is constructing an infinity pool to keep her two teens busy after the two-year COVID-19 pandemic.
"We live so close to Buntzen Lake and White Pine Beach but with COVID it brought so many more people into the area looking for some water. It's hard to even get into those places, so COVID definitely played a big role in us wanting to have our own little slice of paradise at home," said Pero in the CBC News report.