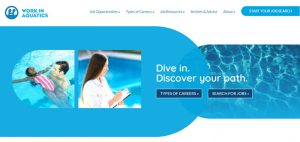 The Pool & Hot Tub Alliance (PHTA), the trade association for the swimming pool, hot tub, and spa industry, has launched a brand-new jobseeker website and a job board exclusively for PHTA member companies.
This will help the association achieve its goals of workforce development. The cornerstone of the program is the consumer website, which serves as the program hub and provides jobseekers with critical information about the industry, including in-demand positions, career tracks, earning potential, personal success stories, and more. Members of PHTA are invited to create their very own employer profiles and post jobs free of charge on the only industry-specific job board in the market.
PHTA leadership first revealed plans for the program, known as the Pool Professionals Pipeline, at its board meeting last November. Alongside its experienced steering committee of industry experts, PHTA developed the program to enhance jobseeker awareness of the aquatics industry and to meet the demands for new talent amid concerns from the members over the labour shortage and the compounded effects of the pandemic.
Along with the jobseeker website and job board, the program will be supported by a social media presence on Facebook and LinkedIn, public relations, advertising campaigns, and ongoing content development of videos, new resources, and other assets. PHTA members can expect additional resources and ways to expand their visibility among today's active jobseekers as well.
"The pool and hot tub industry is awash with potential for growth, but like many other industries today, we are limited due to the shortage of skilled labor and younger generations of workers entering trades such as ours," said PHTA president and CEO, Sabeena Hickman. "The importance of this program cannot be understated–we heard our members' concerns loud and clear, and we're proud to finally unveil this next step in our plan to welcome jobseekers to our industry."