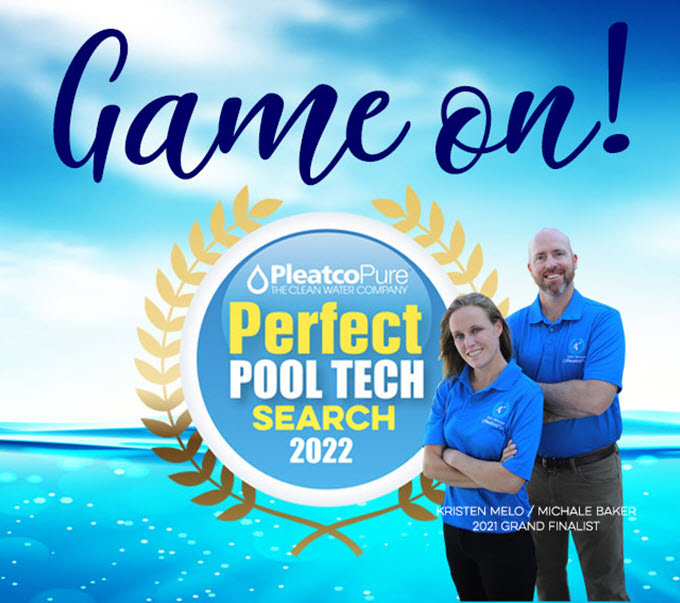 Pleatco, together with co-sponsors Genesis and the Pool & Hot Tub Alliance (PHTA), has launched the 2022 search for the best pool and hot tub service technicians in Canada and the United States with the launch of the 2022 "Perfect Pool Tech Search."
Since 2007, this competition has been shining a spotlight on this segment of industry professionals who are more accustomed to working in the shadows. The contest is an innovative way to honour the hardworking men and women of the pool and spa service industry. This year, Pleatco and its contest co-sponsors are urging everyone—even those who have entered in the past—to nominate themselves or a colleague for the reward and recognition.
This year's two grand finalists will each receive a trip and accommodations for two to the International Pool | Spa | Patio Expo in Las Vegas, Nevada, in November, along with a "Super Pass" to attend a number of the show's various events and educational sessions. In addition, grand finalists will also be able to attend the Genesis Basic Pool Construction (C201) course free of charge ($5000 value).
Four finalists, as determined by sponsors will also be determined in the following categories: "Big Heart," "Lifetime Achievement," "Young Leader," and "Customer Service."
These finalists will also receive a Pleatco roundtrip and accommodations in Las Vegas to attend the show and presentation of the awards. Each will also get the choice of two Genesis On-demand courses: Certified Maintenance Specialist Complete (CMS) complete course or Certified Service Technician (CST) complete course.
The 2022 Perfect Pool Tech winners will be announced on November 16 in Pleatco's booth. The event will also be livestreamed for anyone to view. Winners will also partake in a nationwide advertising campaign.
The deadline for nominations is 11:59 p.m. on Sept. 18, 2022. Entries should be submitted online at Pleatco.com/contest-entry. Voting will open at 12 p.m. on Sept. 21, 2022 and closes at 11:59 p.m. on Sept. 28, 2022.
All nominations will be published on pleatco.com and anyone is eligible to vote online.