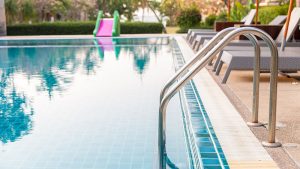 The Institut national de santé publique du Québec (INSPQ) is calling on the provincial government to extend safety regulations to all residential pools.
As reported by the Montreal Gazette, Quebec laws requires pools be made safer by the installation of devices that would limit access to them by young children.
However, these regulations only extend to pools built before 2010.
As reported by The Gazette, the province has said the regulations will extend to all pools in July 2023.
However, INSPQ argues this delay is diminishing the impact of the law, and the number of drownings of children under the age of five has not reduced in the past decade.
The INSPQ said owners of above-ground pools should make sure any structures that could be climbed to enter a pool area be at least 1 m (3.37 in.) away from the pool. It recommends that vertical slats be inserted in chain link fences where the opening between links is more than 30 mm (1.18 in.), and new pools should not be surrounded by chain link fences larger than that measurement.