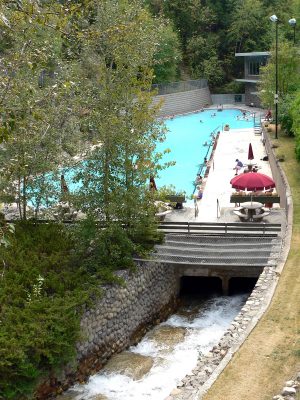 Residents in British Columbia's southeast are upset about the increase in entry fees for Radium Hot Springs, a popular attraction in Kootenay National Park run by Parks Canada. The price of a single adult-entry ticket has doubled from $8 to $16.50.
The prince of the annual adult pass increased by 47 per cent to $220.50. Parks Canada officials says the fees were frozen since 2004 and needed to be raised to cover operating, maintenance, and capital repair costs.
According to CBC, a resident of Invermere, close to Radium Hot Springs, said during a protest with other locals against the fee hike held end of January 2023, "I understand that Parks Canada is not in the business of providing municipal pools. But we don't have an alternative." She expressed her fears about her children not being able to access safe and affordable options to learn how to swim.
The fee hike led some residents to propose a cost-sharing arrangement between the local community and Parks Canada, to subsidize the cost of entry, as those living in Invermere and Radium do not have any alternative recreational centres.
Parks Canada's chief operating officer says they are open to discussing this proposal with local officials. However, according to the mayor of the Village of Radium Hot Springs, currently no mechanism exists under the regional district system to share costs between the park and facility governance.