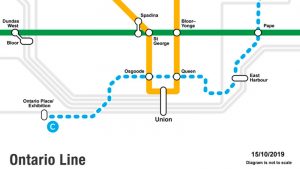 Residents living near future Ontario Line subway route will need permission from Metrolinx to build a pool on their property.
As reported by The Toronto Star, last year the Ford government passed a law which will require residents to obtain a permit from Metrolinx to do any home improvements within 30 m (98 ft) of  "transit corridor lines" of any of the provincial agency's priority transit projects.
The new rules will impact thousands of residents who live near the Ontario Line and other projects within Toronto.
Ministry of Transportation spokesperson Natasha Tremblay told The Star the new law is meant to avoid delays on transit projects and is not meant to impinge on the property rights on landowners.
Joe Vaccaro, CEO of the Ontario Home Builders' Association (OHBA), commented the new rules could lead to better co-ordination between private construction and Metrolinx, but it depends if the provincial transit authority and City of Toronto officials work together to create an efficient process.