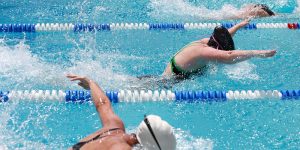 Swimming Canada has decided not to attend world junior championships, or to host international events for 2021.
Canada will not send swimming teams to the FINA World Junior Swimming Championships in Kazan, Russia, August 24-29, or to the FINA World Junior Open Water Championships (location to be determined).
"Our high-performance team, including national development coach Ken McKinnon, and national distance/open water coach Mark Perry, have done a thorough review of several factors that complicate our ability to select teams, have them travel internationally, and compete safely. This includes health and safety constraints at home and abroad, as well as our inability to run qualification events for athletes in a fair and equitable way," said high performance director and national coach John Atkinson. "We understand what a tough year it's been for our junior swimmers in Canada. Unfortunately, the lack of training and racing opportunities, combined with many unknown factors regarding travel, borders, and quarantines, have led us to the very difficult decision that Canada will not be sending a team to either the pool or open water world junior championships."
In addition, Canada will not be hosting the FINA Marathon Swim World Series July 25 or FINA UltraMarathon Swim Series July 31 in Lac St-Jean, Que., or the Marathon Swim World Series August 7 in Lac Megantic, Que. This decision was made in consultation with the local organizing committees and Fédération de natation du Québec.
"Our Olympic and Paralympic Trials event set for Toronto this year at the end of May is still in place, however, we must be responsive to the current health situation in the country as we
lead up to the event," said Swimming Canada CEO Ahmed El-Awadi.
"As an organization, we have to put health and safety first. While these are difficult decisions, I am confident it is the right decision to not expose our promising young swimmers to international travel this year, or to encourage swimmers from other countries to travel to Canada for events," added president Cheryl Gibson.