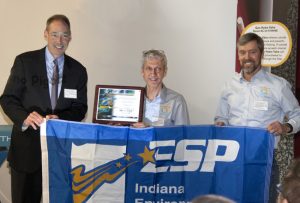 Thursday Pools recently received the Environmental Stewardship Program (ESP) award from the state of Indiana for its commitment to continual improvement, which has decreased the company's overall environmental footprint.
The fibreglass pool manufacturer has also been certified as an ISO 14001 company to have achieved specific performance requirements. The award recognizes businesses that achieve environmental objectives by creating and implementing an environmental management system (EMS).
"We are very pleased to have been recognized by the state of Indiana for our environmental stewardship initiatives," said the company's chief financial officer Bill Khamis.
Among other environmentally friendly systems, Thursday Pools also works with the Environmental Protection Agency (EPA) to maintain a Title V air permit that minimizes exposure to hazardous air pollutants (HAP) in its gel coats and resins and uses only low volatile organic compounds (VOC) for the release agents and solvents used in making pools.
The company has also created a Minimal Waste Program in its manufacturing process to minimize the generation of particulate matter and VOCs by using all-resin spray-on equipment in addition to using only low-pressure equipment pumps as well as high-volume, low-pressure (HVLP) spray guns that are used for solvents and release agents, and procedures such as non-atomizing.
"We are committed to choosing manufacturing procedures that minimize our environmental footprint so the industry can feel good about buying from our company," said Khamis.