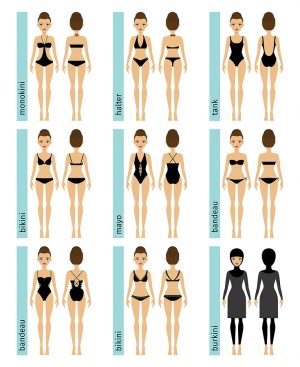 The Vancouver Park Board recently approved a policy which outlines appropriate swimwear for city pools. The proposed policy was part of a report from staff aiming to address the issue of clearly defining acceptable attire.
The report defined appropriate swimwear as "what other Canadians find as an acceptable level of tolerance in a family public swimming environment." It recommends swimwear must fully cover private areas; must not be used for sexual purposes; must not be made from material that can easily sap moisture, such as denim; and must not feature long, flowing fabric which could pose safety hazards.
The types of attire specified as appropriate for swimming include bathing suits, swim trunks or board shorts, T-shirts and shorts, burkinis, swim hijabs, leggings and tunics, rash guards, and wet suits.
The report was prompted by concerns from staff at the city's aquatic centres, who had requested a clear policy to help them navigate situations where patrons' attire could attract attention. Further, varying levels of tolerance from both staff and members of the public had made it difficult to determine what types of swimwear were deemed acceptable for public aquatic facilities. City staff asserted the proposed policy addressed safety concerns related to risk-posing swimwear, emphasizing it should allow free movement of the body, not hinder buoyancy, and not increase safety risks for swimmers or lifeguards.
Commissioner Tom Digby expressed his support for the policy, noting it protects human rights and freedom of expression while ensuring a family-friendly environment for all swimmers. He believes the choice to wear certain clothing is a complex issue of social equity in the city, because some people may feel uncomfortable with certain types of swimwear.
Additionally, the board approved an amendment to run the policy as a 12-month pilot project, allowing for any necessary modifications to be made in the future.
Despite a B.C. Supreme Court decision in 2000 that supported women's rights to bare their breasts in public, Digby believes it would be excessive in a pool setting. The 2000 decision involved a woman who had gone topless to a city-run pool, and the bylaw charge against her was dismissed following the ruling.
In contrast, the city of Edmonton recently amended its topless policy in February, to allow all patrons, regardless of their gender identity, to swim and lounge without a top on.
According to a report from CBC News, Vancouver residents Brianne Boehm and Andre Wong expressed their concerns about the policy. Boehm worried such policies could lead to discrimination against marginalized groups such as people of colour, individuals in larger bodies, and transgender individuals. Wong believed enforcing a swimwear policy would be difficult, as there would be a diverse range of people with varying preferences regarding what they wear to swim.