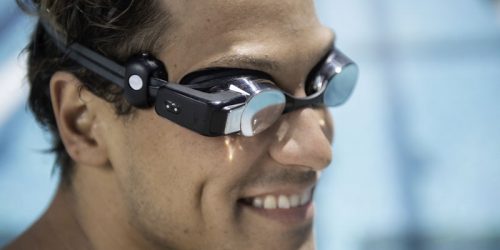 Vancouver-based company Form has partnered with Polar to include heart rate technology in its swim goggles.
Currently, the goggles provide see-through vision, augmented reality (AR) display, which delivers performance metrics in real time. The Polar updates are optical heart rate monitors, which combine versatility, comfort, and simplicity.
Through a free software update, Polar OH1/OH1+ will attach to the Form swim goggles strap, where it will sit snugly against the swimmer's temple, monitoring the heart rate using its six light-emitting diode (LED) optical sensor and proprietary algorithm.
Real-time data will be transmitted wirelessly from the OH1/OH1+ to the goggles, enabling the swimmer to see their heart rate in their line of sight.
Completed swims will sync to the Form App for iPhone and Android, which will match heart rate data to metrics such as split times, stroke rate/count, pace per 100, and calories in a single and navigable view.
"Form has worked closely with Polar since 2018 to enable this functionality," said Form's founder and CEO, Dan Eisenhardt. "By adding Polar heart rate monitor tech to our goggles, we'll empower serious swimmers to make their training even smarter and more purposeful."