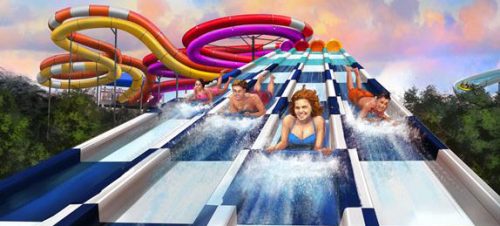 Vancouver-based WhiteWater is designing and manufacturing a waterslide for Worlds of Fun called  Riptide Raceway in Kansas City, Mo.
According to the amusement park's operators based in states the attraction will be the second longest in the U.S when it debuts in 2020.
Riptide Raceway will take guests five storeys high before they speed down four side-by-side tunnels on a soft foam mat. Riders in each lane will race more than 145 m (476 ft) to be the first to reach the finish line as they make a journey down a winding hillside, around a tight 360-degree loop, and through a rapid final descent before splashdown.
The family-friendly ride has been designed to follow the natural terrain of the park's landscape and is the first thrill attraction added to the waterpark since 2013 when Oceans of Fun and Worlds of Fun merged. It will replace Diamond Head, one of the park's original water slides, which opened in 1982; construction will begin this fall after Oceans of Fun closes for the 2019 season.
"With its thrilling twists and competitive elements, Riptide Raceway is sure to be an instant fan-favourite," said Worlds of Fun's vice-president and general manager, Tony Carovillano. "We're constantly looking for new ways to delight our guests such as this waterpark attraction."