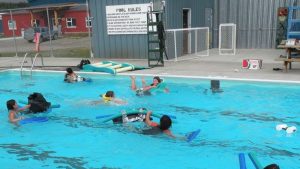 The Village of Mayo in the Yukon Territory will make upgrades to a local swimming pool with funds from the territorial and federal governments.
The Government of Canada is investing more than $44.7 million to 14 community projects through the following:
Community, Culture and Recreation Infrastructure Stream;
Green Infrastructure Stream;
Rural and Northern Communities Infrastructure Stream; and
COVID-19 Resilience Infrastructure Stream.
The Government of Yukon is providing more than $10.1 million towards these projects.
Included in this is $225,000 in federal funding and $75,000 in territorial funding for the rehabilitation of an existing seasonal swimming pool facility, including general public safety repairs, boiler replacement, and mechanical system upgrades.
"Making sure Yukoners have community centres, clean energy projects, and safe and reliable water and wastewater services is essential to building a healthy and sustainable future for communities. As we build back even better and consciously become more inclusive, Canada's infrastructure plan invests in thousands of projects, creates jobs across the country, and builds stronger, safer, and more resilient communities," said Yukon MP Larry Bagnell, on behalf Catherine McKenna, Federal Minister of Infrastructure and Communities.