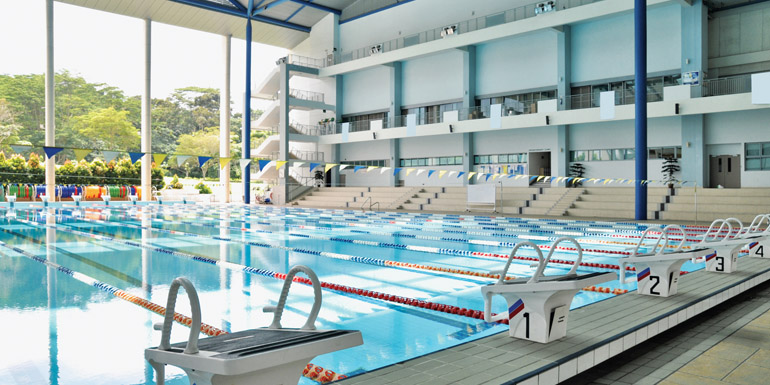 By Roy D. Vore, PhD
When it comes to water maintenance, a pool is just a pool, right? But how about treating and managing a 50-m (164-ft) Olympic pool with 1,135,624 L (300,000 gal) of water, which must be sparkling clear every day? Regardless of a pool's water volume, disinfection, water balance, and filtration remain the same.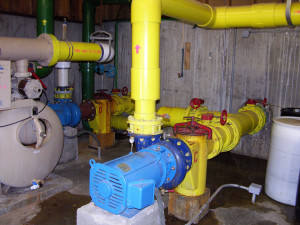 However, a casual stroll through the pump room of one these massive facilities can be quite eye opening and leave one to think differently. For instance, they do not use typical one-horsepower (hp) pumps and 23-kg (50-lb) sand filters, nor can a maintenance professional quickly change the filter sand with a 'shop vac'—think rather wheel barrows, shovels and skid loaders.
To put this into further perspective, should an operator find sorting out unlabelled plumbing at a mid-sized hotel pool challenging, consider what it would be like at an Olympic aquatic facility, which uses 305-mm (12-in.) lines and has a maze of piping.
And even though inventory control and chemical storage for maintaining a hotel pool can prove challenging, try handling 1,361 kg (3,000 lbs) of sodium bicarbonate (NaHCO3), 757 L (200 gal) of muriatic acid (hydrochloric acid), 378 L (100 gal) of sodium hydroxide (NaOH), 2,000 kg (907 lbs) of calcium chloride (CaCl2) and gas chlorine (Cl), and 45 kg (100 lbs) of calcium hypochlorite (Ca[ClO]2), which would be routinely stocked for a typical Olympic-sized aquatic facility.
This brings new meaning to containment, employee hazard and communication training, and safety. Despite their size, however, Olympic aquatic facilities are simply an overgrown 'big brother' to mid-size pools. The fundamentals remain the same; however, managing them is another issue.
A typical water treatment regime
Disinfection systems must be automated and sized appropriately to meet each facility's varying swim loads. It goes without saying that hand feeding chemicals is not appropriate. There are no special requirements for testing chlorine concentration; the same periodic manual testing using N, N-diethyl-p-phenylenediamine (DPD) or ferrous ammonium sulfate-N, N-diethyl-p-phenylenediamine (FAS-DPD) must be performed to confirm the settings in the automated chemical feed system.
Manual tests should be performed every two hours, or as specified by local code if less than two hours. In polling several facilities, it was determined most keep free chlorine levels under 2 milligrams per litre (mg/L) or parts per million (ppm) with the understanding that higher levels could lead to higher amounts of airborne chloramines.
Water balance parameters and disinfection requirements do not change with pool size either. As Michael Orr, executive director of the Foundation for Pool & Spa Industry Education (FPSIE) points out, one of the easiest ways to lose control is by adding large amounts of any water balance chemical to the pool over a short period of time. In doing so, it may take numerous days to straighten out.
Facility management on a grand scale
The real complexity of operating an Olympic-sized facility is not necessarily related to water treatment but rather meeting the requirements of its diverse group of patrons, while balancing the personalities of its large staff. Although these are not treatment parameters as such, they are vital to a facility's smooth and efficient operation.
Keeping patrons happy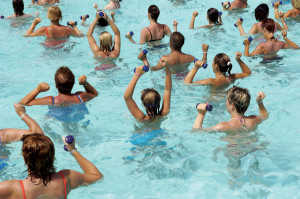 Due to their size, for example, many Olympic facilities must be able to attract and maintain the attention of a variety of special interest groups as they are vital sources of revenue. Therefore, as with any facility, scheduling is important—especially in shared facilities where conflict of interest can often occur.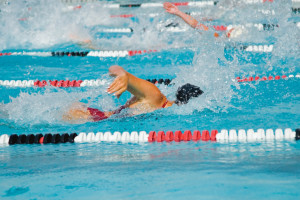 For instance, youth swimming classes and aquatic exercise programs for older patrons may prefer water temperatures between 28.3 and 30 C (83 to 86 F), while swim teams prefer water temperatures ranging from 25.5 to 27.7 C (78 to 82 F). Failure to hit the ideal temperature range for each scheduled group will not only result in frustrated patrons, but also disappointed management. Immediately before, during, and after each event the entire focus must be on the requirements of each scheduled group. One way to clarify the facility's goals is to publish, distribute, and discuss with all interest groups, a clear mission statement.