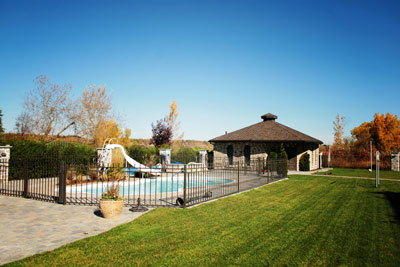 The City of Ottawa is currently reviewing proposals with regards to revising and updating its swimming pool enclosure bylaw.
The City of Ottawa has started a month-long period of consultations with industry stakeholders, safety organizations, community associations and residents on proposals to revise and update its swimming pool enclosure bylaw.
According to the city, the existing pool enclosure bylaw, which was enacted in 2001, primarily protects small children from gaining access to private pools when unsupervised and is focused on preventing children outside the property from gaining access to the pool area. As a result, many of the new proposals are aimed at protecting children living within, or visiting the home.
Therefore, the key proposal is to introduce four-sided pool enclosures where there is a gated fence between the home and the pool. Currently, the dwelling can serve as one of the sides of the pool enclosure, allowing direct access to the pool from the home. Additional proposals will deal with temporary enclosures, technical issues such as fence and gate specifications and unique requirements for hot tubs and above-ground pools. This requirement will not affect existing pool enclosures.
The consultation will conclude on March 9, 2012 and a report will be presented to the planning committee in April. Should any changes occur, there will be a transition period before they take effect.