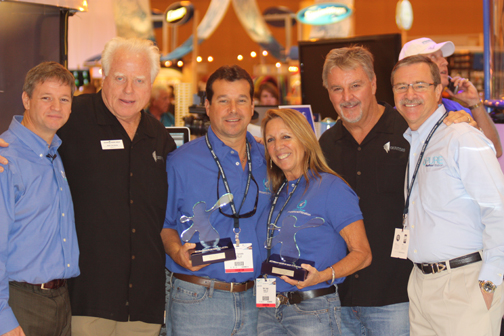 Pleatco, a cartridge filter manufacturing company in Glen Cove, N.Y., has announced the 2012 winners of its fifth annual Perfect PoolGuy/Gal contest.The recipient of the 'PoolGuy' title went to Tom Cucinotta of Cucinotta's Pool Service in Lake Worth, Fla., while Mari Lange of Algae Eaters Pool Service in Bradenton, Fla., earned the 'PoolGal' title. In addition to trophies, both winners also received a $5000 scholarship towards the Genesis 3 service certification school program.
Brian Van Bower and Skip Phillips, co-founders of Genesis 3, which is a sponsor of the Pleatco 'Perfect PoolGuy/Gal' program, presented the awards to both winners at Pleatco's booth during the 2012 International Pool | Spa & Patio Expo (IPSPE) in New Orleans, La.
"Genesis 3 has supported the Perfect Pool Guy/Gal contest for the last three years," says Pleatco's COO, John Antretter. "Both companies feel strongly about enhancing the training and education available to today's service professionals as they are the front line of the industry. Whatever we can do to help these dedicated men and women succeed, strengthens our business and our industry."
Four additional awards were also handed out to selected contestants based on their contributions to their community and the pool and spa industry. The recipients included: Bill Parry, Parry Pools in Jacksonville, Fla. (Industry Leadership Award), Dan Stebner, Sun Peaks Aquatics in Sun Peaks, B.C. (Lifetime Achievement Award), Ian Fisher, Sun Peaks Aquatics in Florida (Future Leader Award), and Phillip Farmakis, Wolter Pools & Spas in Beloit, Wis. (Big Personality Award).