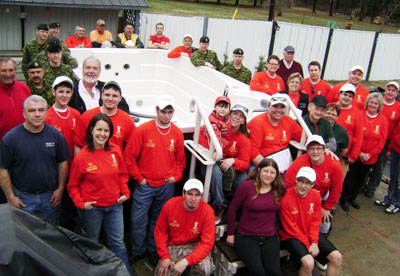 The pool and spa industry rallied together to donate and install a swim spa for Canadian veterans in Deep River, Ont.
In recognition of the family's contributions, on April 27, a Hydropool swim spa was installed at the Deep River-Ont., home of Master Cpl. Will Wells and his wife, Cpl. Suzy Wells, who is now retired from the military.
Representatives of the pool and spa industry took this opportunity to extend its deepest appreciation to all those who have been involved on Canada's behalf in restoring order and preserving peace throughout the world.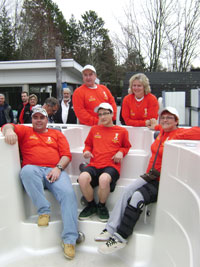 The Pool & Hot Tub Council of Canada (PHTCC), which was one of the event sponsors, also acknowledged the fine efforts of those who contributed to the project, particularly William Brady of Cobra Pools & Spas Inc., in Perth, Ont., who spearheaded the initiative.
In addition to the generosity of many local businesses and service groups, other pool and spa companies lending support included:
• Backyard Brands (Dazzle Water Care), Markham, Ont.;
• BonaVista Pools, Markham, Ont.;
• Bubba's Tubs & Pools, Mount Pearl, NF;
• Central Spa & Pool Supply, Midland, Ont.;
• H.S.T. Synthetics Ltd., Mississauga, Ont.;
• Hydropool Hot Tubs, Oakville and Mississauga, Ont.;
• McKie Pools and Spas, Petawawa, Ont.;
• Piscines FunTime Pools Inc., Moncton, NB;
• Pool Spa Sauna Showroom, Orillia and Huntsville, Ont.;
• SCP Distributors Inc., Perth, Ont.;
• Skyview Industries Ltd., Saanichton, B.C.; and
• The Water & Wellness Centre, Walkerton, Ont.
Going forward, Brady hopes to co-ordinate future fundraising initiatives similar to this on an annual basis, installing swim spas at military, naval and air force bases across the country.