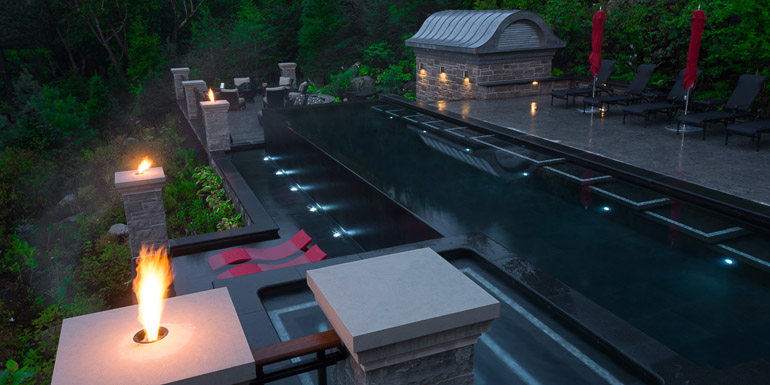 By Barry Justus
Consumers are exposed to imaginative ideas and concepts from a variety of sources such as reality television, exotic travel, and niche magazines. However, the Internet, by far, is the most common source of inspiration. Pool builders are often presented with piles of images accumulated by clients eager to incorporate similar—or identical—concepts into their own backyard.
From entry-level to large-budget estate projects, more homeowners are requesting their pool builder to provide design elements that incorporate audio, visual, and sensory perceptions. Driving this trend further is the advent of realistic 3D design programs that can place the client anywhere within their project. From a sales perspective, providing the client this type of live participation in their project design can be a positive experience.
Complex multi-level designs that stimulate multiple senses simultaneously can best be represented by fly-through virtual reality, or 3D design programs. Clients can still relate to a well-presented 2D plan view, but for the average consumer, nothing helps to sell a project more than allowing the client to experience a conceptual design.
In this sense, pool builders need to present clients with a complete portfolio comprising photos of past projects, videos, sample pieces, sample boards, mock-ups, construction plans, engineering diagrams, 3D programs, renderings, hand-drawn artistic impressions, and project site visits. Let them touch, feel, and listen so they can visualize their project to see how audio, visual, and sensory components can turn their backyard into an entertainment destination.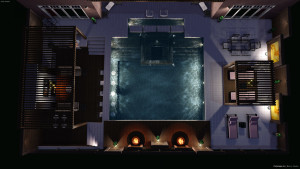 Creating an auditory experience
The audio component of both indoor and outdoor water shapes cannot be overlooked or minimized. This portion of the project, however, is reliant on
the designer's knowledge and, more importantly, on their on-site experience with completed projects.
Indoor audio
Every detail of an indoor pool room needs to be designed with the acoustic footprint in mind, taking things such as noise created by the dehumidification system into consideration. Therefore, the architect, interior designer, and pool designer/builder need to interact during the planning phase or there could be potential for a seriously flawed acoustic performance of the finished interior space.
Large commercial indoor spaces often come equipped with noise dampening curtains, and roof materials to mitigate the acoustic echoing that can occur in the aquatic environment. Residential indoor spaces need to be designed carefully or the noise level can become intolerable. For example, clients will often ask designers to incorporate large elaborate rock waterfalls or sheers into an indoor pool room without knowing the subsequent acoustic effects. A waterfall creates an incredible amount of noise and releases a large amount of humidity into the air—issues that builders want to avoid in an indoor pool environment. Even a subtle perimeter overflow pool needs to be properly executed to eliminate potential drain noises. Carefully balanced sound systems in an indoor pool environment need to be designed to handle relatively high humidity levels, as well as avoiding unnecessary penetrations of the vapour barrier surrounding the building. Therefore, a competent audio design/build firm will need to assess the needs of the individual project and should be invited into the design phase as early as possible.
Underwater speakers work particularly well in indoor pool rooms as the acoustic environment is relatively stable. Indoor pools are often used year-round for exercise and the addition of an integrated sound system, with an appropriate water feature, will lead to increased enjoyment of the pool, not to mention happier, healthier clients.