Trending now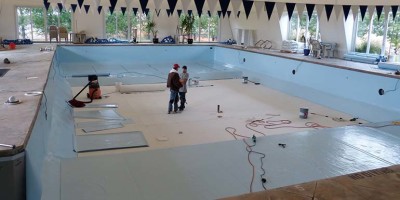 Some local health departments in Canada and the U.S. are now often requiring PVC membranes be installed in commercial pools (including hotel/motel, condominium/homeowner association, and municipal/YMCA-type pools), as it is available with a non-slip texture material which is often specified by local governing bodies to ensure pools are safe for the public. In terms of non-slip textures there are several options, including a 'pyramidal' emboss which is often used in shallow areas and steps to provide traction and prevent slipping.
Todd Shady from 21st Century Pools in New York, N.Y., started in the industry 25 years ago after learning the PVC membrane trade from a material supplier in Germany.
"I am putting together proposals for municipalities, architects, and engineers who now specify PVC membrane," he says. "Although the concept was introduced in Canada and the U.S. more than 20 years ago, awareness of the benefits is now starting to increase across the industry. Even five years ago we were only installing two to three PVC membranes in pools a month. Now we install between 10 and 15 per month."
It is important for facility managers, and even residential pool owners, to consider the costs of having to structurally repair their pools year after year versus the cost of installing a PVC membrane, adds Shady, who works with ProLine membrane based in Pennsylvania.
"Surface patches are not often long-term solutions," he says. "In most cases, there are underlying issues with the pool structure that can be eliminated by using a PVC membrane.
"In our market, the majority of business is still coming from the commercial side of the industry although we are starting to see more residential pool owners opting for PVC membranes."
He finds the 60-mil PVC reinforced interior pool finish to be ideal in areas with high water tables where traditional vinyl liners may float and fibreglass may peel. As most builders know, high water tables in certain areas allow water to get behind the walls of traditional 20-mil vinyl liners, which are held in place by the weight and pressure of the water in the pool, causing them to 'float' up as the water pushes against the vinyl liner. High water tables can also cause peeling of fiberglass where water seeps in.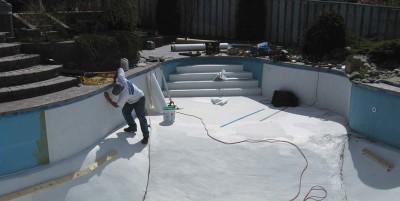 According to Melbourne, in the New England, New York, and New Jersey areas, this trend is mostly in the commercial sector although calls for residential pools have picked up.
George Stencel, from Carolina Pools in North Carolina, says he is doing 60-mil reinforced PVC liner projects more frequently on smaller, condo-type pools that are similar in size to residential pools. Most of the jobs are one-person installations where the condo manager no longer wants to replaster or repaint the pool every year.
"I am also fixing a lot of small fibreglass pools that have cracked," says Stencel. "Fibreglass pools, once cracked, don't have many options in terms of repair. Even if the crack is re-epoxied, the weight of the water will open it up again. A PVC weld-in-place liner not only fixes the pool, but also makes the pool water tight."
In Canada, Fleetwood along with Greg Solmundson, the owner of Ark Custom Pool & Spa International in Kelowna, B.C., who works with DWL Delifol, a supplier of PVC membrane located in Germany, also find an increasing number of their jobs to be in the residential market.
In fact, Fleetwood says almost 50 per cent of their PVC membrane projects now involve residential pools.
"We do a lot of business in the Northwest Territories—all by word of mouth," he says. "We have built quite a few new pools using PVC membrane as it works well in this area's climate."
When it comes to colour selection, the trend is towards solid shades; for example, grey, granite, and black have been popular over the last two years—especially for residential pools.
"In Europe, the majority of our material is sold to installers who are using it in residential pools," says Nachmann. "It seems this trend is finally making its way into North America and builders are not only educated about the product, but are also trained on how to install it."
Commercial pools consistently remain light blue as it keeps the water bright and makes it easy to see bathers. In some instances, a tile border or pattern along the top of the wall is being added on some commercial and residential pools, but installers agree this is still rare in the market.