Costs and benefits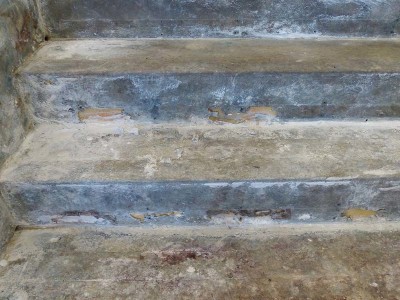 A PVC membrane is a relatively affordable option that can immediately improve the functionality and esthetics of a pool—whether commercial or residential. Therefore, when it comes to price, it is important the client evaluates the cost of the PVC membrane over its 15- to 25-year life.
"The price of the PVC membrane seems very affordable to most facilities when they compare it to the cost of re-surfacing, re-plastering, and repainting the same pool every year over the same period," says Melbourne.
In addition to its pool repair benefits, PVC membrane is pleasing to the touch. This is especially true for bathers in commercial pools doing water aerobics or simply wading in shallow areas. Unlike traditional plaster and granite, the texture of the finish is softer on bathers' feet. Further, the felt lining under the PVC membrane makes the floor more comfortable to stand on—this is especially beneficial to older swimmers using the pool for water conditioning, therapy, or exercise.
Pools with PVC membrane finishes also use fewer chemicals as it is easier to balance water chemistry. This is especially true of facilities which previously had plaster and gunite finishes that often suffered from calcium leaching out of the substrate, especially as the pool surface becomes rougher over the years. The more dirt that collects, the more chemicals the pool needs to keep the water clean. Decreasing chemical usage is a growing trend in residential pools and an added savings benefit for commercial facilities.
Most PVC membranes on the market are treated to resist algae growth. This includes preventing algae from seeping in from the backside of the membrane. They are also nearly tear-resistant and can withstand a lot of wear from heavy bather loads. Further, as the membrane remains flexible throughout its life, it is also capable of expanding and contracting as the substructure continues to shift during freeze-thaw cycles.
Esthetics matter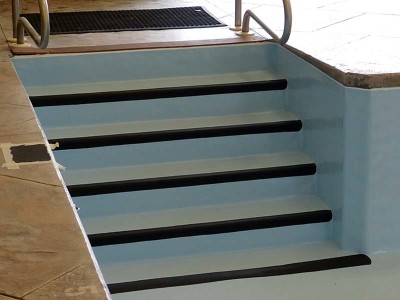 Commercial aquatic facility operators are always looking to retain and increase patronage at their pools to remain in business, but today's consumers have many options and always prefer to visit an aquatic facility that looks new and attractive. Older pools that have years of repainted surfaces and patches, look old, rough, and unsightly. The installation of a PVC membrane can clean up the look of a pool, while also making it safer with slip-resistant material on steps and shallow play areas. Contrasting colours on racing lanes and transitions from shallow to deep areas of the pool can also be added.
The same can be said for hotels as these pools must always be in tip-top shape to help attract guests. Melbourne, for instance, has worked with The Sheraton, Marriott, and Hyatt Regency hotels in his area, which all have PVC membranes. Many hotels look for custom treatments on the walls and floor to get a specific look that matches the hotel's décor.
"The Marriott Long Wharf in Boston, for example, decided to use a dark blue floor with a light blue wall and black perimeter top edge to create a dramatic look, which was especially visible at night with the pool lighting and the Boston Harbor in the background," says Melbourne.