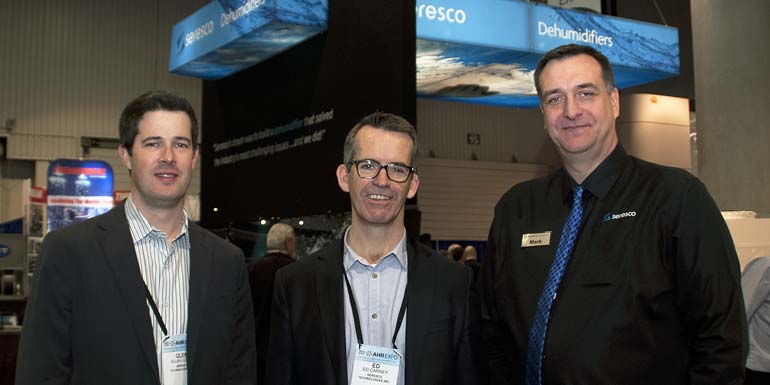 Seresco Technologies, a manufacturer of mechanical indoor pool dehumidification equipment in Ottawa, Ont., has named Kilmer Environmental its '2016 Rep of the Year—Canada.'
Kilmer Environmental, a 30-year-old manufacturer's representative based in Mississauga, Ont., was one of five North American manufacturer's representatives recognized at the recent 2017 International Air-Conditioning, Heating and Refrigerating Exposition (AHR Expo) in Las Vegas, Nev., for surpassing $1 million in sales by amassing a high volume of indoor pool dehumidification projects.
According to Mark Palitza, Seresco regional sales manager, who presented the award to the company's co-partners, Ed Carney and Glenn Kilmer, Kilmer Environmental, which covers the central and western Ontario territories, has more experience in mechanical indoor pool dehumidification than any other rep in North America.
Two of the company's most notable dehumidification installation projects last year included the $12.5-million renovation of the Victoria Road Recreation Centre in Guelph, Ont., and the Chinguacousy Wellness Centre in Brampton, Ont., which was retrofitted with a dehumidification system that included the integration of a dedicated heat recovery exhaust that evacuates chloramines from the pool surface.
Another Canadian manufacturer's representative, Qualite Air Totale (QAT) in Laval, Que., was also recognized for surpassing $1 million in sales in 2016.