Installation process
Installing the surface properly is critical to its effectiveness. Before installation, first determine how the surface material is packaged (e.g. rolled-up matting, tiles that need to fit/snap together). Once the surface is identified, it is important to understand what prep work may need to take place before installation.
For example, rolled matting may need a few hours to relax if it is slightly curled, while tiles or other pieces that need assembly may require an adhesive. Many surfaces may also require special installation tools (e.g. cutting or trimming) to ensure a proper fit.
Also determine if there is a specific top and bottom to the surface and make sure the proper side is facing up during installation. If an adhesive is required, make sure it is appropriate for the surface being installed. Installation can vary; some surfaces can be secured to wood, concrete, steel or ceramic tiles—both above and below water—while others can be left loose and used as runners.
Installation time and facility downtime can also vary due to several factors, including application size, removal of existing surfaces, and the application method (e.g. a permanent installation using adhesives or as removable runners). Some installations can even be completed by the facility's staff.
Physical properties
Before installing a slip-resistant surface, its resistance to a variety of elements—such as chemicals, extreme heat, wind uplift and mould/mildew growth—should be determined.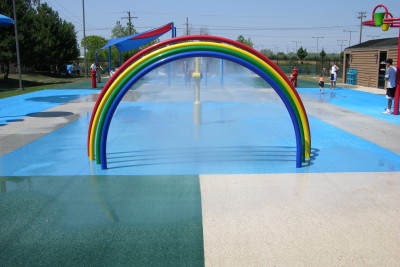 Facility managers are advised to check with the surface manufacturer to determine its makeup and chemical resistance, as this can vary depending on the safety surface selected. Look for surfaces resistant to environmental and chemical degradation, as well as alkalis, acids, ozone and waterborne chemicals.
If the surface will be used outside, make sure it is resistant to wind uplift, contains ultraviolet (UV) properties and is temperature resistant. Also find out if the surface is capable of expanding and contracting in environments with temperature variations.
The surface's construction should allow moisture to easily flow through to eliminate any standing water, which will help reduce algae growth.