Maintenance
As surfaces vary by manufacturer, facility operators should check with their supplier to determine the best cleaning agents and proper techniques to ensure the facility's investment in slip-resistant surfacing lasts for many seasons.
To maximize the life of the safety surface and ensure a healthy environment, confirm the following:
proper cleaning procedures (frequency);
acceptable products and tools (e.g. power washers); and
chemicals to avoid.
Regular maintenance should also include inspecting the surface for exposed seams or edges (e.g. corners of the surface that have turned up), which can become trip hazards.
Safety and comfort
As the safety surface will be used in an area prevalent to bare feet, its comfort level for patrons of all ages should be determined. It should also protect bare feet from hot surfaces and splinters. As such, colour selection is important; for example, a lighter coloured surface should be used in outdoor aquatic environments to reduce surface temperatures from heat absorption.
Heed caution
Although caution should always be used when walking in an aquatic environment and patrons should be prevented from running, a slip-resistant surface helps increase safety around an aquatics area by reducing the chance for accidents to occur. Should a patron fall, the surface will provide some level of cushion to help prevent injuries.
Slip-and-fall related injuries could be traumatic for patrons and costly for aquatic facilities, often leading to legal issues and even unexpected publicity. Installing a slip-resistant surface can provide an enjoyable experience for patrons and peace of mind for facility operators and managers.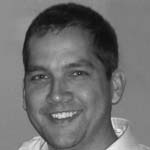 Rob Amelung is owner and vice-president of PEM Surface Creations, a St. Louis, Mo.-based supplier of slip-resistant flooring for the aquatic and playground industries. He can be reached via e-mail at info@pemsurface.com. For more information, visit www.pemsurface.com.