Sizing guidelines
When sizing a solar heating system, the general guidelines are to have a panel array that is approximately 50 per cent the size of the pool's surface area. For example, the surface area of a typical 4.8 x 9.7-m (16 x 32-ft) pool is 47.5 m2 (512 sf). To properly heat this pool, 24 m2 (256 sf) of solar panels is recommended. (Most systems include an easy-to-use-sizing chart on the solar panel box, which makes it easier to calculate.)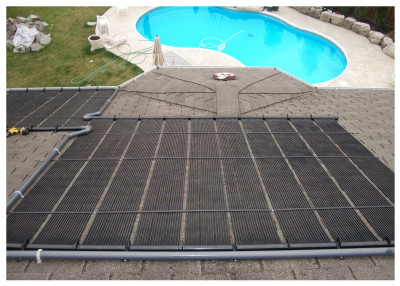 Solar panels can be mounted on the ground or a racking structure; however, the roof of the house is usually the best place for installation, as the panels will absorb heat from the roof and attic in addition to the sun. A south-facing position is optimal, as it will be exposed to the sun longer allowing more heat to be absorbed by the water. If a south-facing installation is not possible, the next best position is west-facing. As the sun is at its highest elevation point throughout the summer, the roof's pitch is not crucial, just as long as it is safe and comfortable to work on.
Much like a thermostat, automatic solar controllers can be programmed to maintain a certain pool water temperature to eliminate the need to manually turn the system on/off manually. They use two sensors (one on the roof and one in the pool) to compare the actual water temperature to the desired temperature, as determined by the user. When the collector temperature differs by a few degrees, the three-way valve automatically opens to circulate water through the panel system. When there is no heat to be gained, the water simply bypasses the panels and travels through the pump back to the pool as usual.
Environment not the only benefactor
Ultimately, the benefits of these eco-friendly heating systems are clear for consumers who use solar thermal panels and the industry professionals who sell and install them. Retailers interested in offering these alternatives also benefit from an easy-to-install product and, in some cases, a manufacturer-supported launch.
By providing customers with a way to heat their swimming pools using free heat from the sun, they benefit from being able to swim guilt free (no heating bills and no pollution). In turn, the pool will be used more frequently prompting customers to visit their local pool store more often.
HOW TO KEEP THE HEAT
It is important pool owners take into consideration the three natural processes that cause their swimming pool water to lose heat (especially at night): convection, radiation and most prominently, evaporation, which accounts for more than three quarters of a pool's total heat loss.
By stressing the importance of using a swimming pool cover to trap heat underneath its surface, a pool owner can minimize heat loss immensely. In early spring and late summer, much of the heat gained during the day can be lost at night if a swimming pool is left uncovered.
A simple 'bubble' cover effectively eliminates heat loss through evaporation, while silver pool covers can also reflect heat back into the pool. These are generally sold for a few dollars per square foot and are a good investment for pool owners compared to using a backup heating method.
Liquid time-released pool covers are another viable option. These comprise a non-toxic liquid substance, which adds tension and density to surface water molecules, helping reduce evaporation by 40 per cent or more.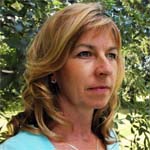 Colleen Simmons is president and team manager for Enersol Solar Products in Campbellville, Ont. Enersol is a family owned and operated business that has been involved in the solar heating industry for more than 30 years. She can be reached at colleen@enersol.com.