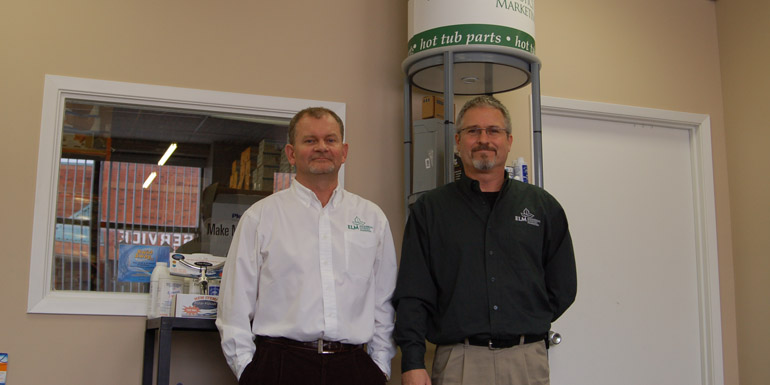 By Kristine Archer
With more than 50 years of hot tub industry experience between them, Ted Williams and Marc Lambert, co-owners of ELM Sales & Equipment Inc., have seen it all. It's that shared knowledge, along with a love of the business, that has driven them to make their Mississauga, Ont.-based spa parts company a success.
"I've been in the industry for 30 years, Marc's been in it for 25 years," Williams says, noting the partners' sole focus on spas throughout their careers. "We haven't gone back and forth from pools to spas. With our backgrounds, we've probably got as much knowledge as just about anybody in Canada when it comes to the history of parts and general knowledge of the spa industry."
From past to present
ELM carries all manner of spa components and accessories, from replacement parts and spa packs to umbrellas and steps. Its current dealer network stretches from Manitoba east, though the company does sell its manufactured products, such as spa packs and controls, with distribution across Canada.
The company started as a small distribution firm spun off from a manufacturing company Williams co-owned called Correct Tech Inc.
"We had designed and manufactured spa controls for about a decade and then started to sell replacement controllers to the industry, specifically to dealers," Williams says of his previous venture. "Many U.S. companies had gone by the wayside and some of their dealers were in need of replacement parts. We felt responsible to stick around and supply those parts to them."
As he continued to evaluate the market, Williams noticed what he describes as a void in the spa parts replacement sector, particularly north of the border. Noting only one major Canadian competitor, Williams thought the market was ripe for a new player.
It was the latest step in Williams' career, which started in 1980, manufacturing wooden hot tubs under the name Rain Barrel Hot Tubs; the company eventually became one of the first manufacturers of acrylic spas in Canada. After the early-1990s recession, a lot of companies failed and many of the larger U.S. players pulled out of Canada, including a major spa pack supplier, leaving a void in the market.
"As a result, Correct Tech started to get into the spa control manufacturing business," Williams explains. "For several years we were making strictly mechanical controls; then the electronic spa controls came along."