A change of pace
Even with their years of experience to draw on, Williams and Lambert have still had to make adjustments and overcome challenges while growing the ELM brand.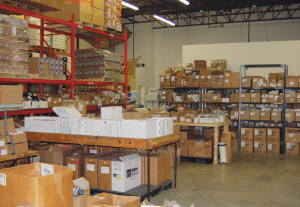 Though they strive to carry a wide range of products, the partners say their strongest market is for 'nuts and bolts' mechanical components, which plays perfectly with their experience in the industry.
"We've also been sourcing different product lines, bringing them in and presenting them to dealers to see what the market will accept, some move and some don't for whatever reason," Williams says.
At present, ELM employs six people. Williams and Lambert have added to their team carefully over the years.
"You have to have the right people in place. Although we do have a plan for expansion, this cannot be done effectively unless you have good, knowledgeable and dedicated staff," Williams says.
The partners' most recent addition is an in-field technical sales representative who is on the road full time to develop the company's customer base. They have also hired additional staff to continue to organize and maintain their warehouse, along with the implementation of a real-time inventory and bar-coding system.
Planning for the future
As they move forward, Williams and Lambert are taking a measured approach to growth, trying to strike a good balance between expanding the business and maintaining the small touches they feel set them apart.
"We'd like to be about three to four times the size we are right now. We don't want to have a huge company where the customer service is lost," Williams says. The partners are also cautious about balancing their personal and professional lives. I have three kids, Marc has three kids. We want everybody at ELM to have a good lifestyle."
Lambert adds, "We're not trying to dominate the world. There's enough business out there that we think we can supply and support our customers well and still be comfortable and maintain that personal touch. It's that little bit extra that builds a relationship of trust between us and our customers."