How to incorporate drop-in hot tubs into the backyard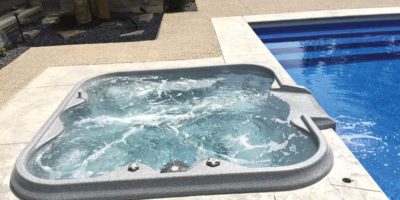 Builders that have not planned and/or installed a pool with a drop-in hot tub should consider getting design assistance from the manufacturer when it comes to configuring the homeowner's backyard, just to make sure everything goes as planned.
Essentially, the hot tub can be placed anywhere in the backyard but, ideally, the pump should be kept as close as possible—no more than 9.1 m (30 ft) away from the hot tub. The best range is no more than 7.6 m (25 ft).
The main reason for installing the equipment nearby is to ensure proper water pressure for the hot tub jets. Most hot tubs allow bathers to adjust the jets in one or two seats; however, if all 25 jets are open, and the equipment is located more than 7.6 m away, the hot tub might not provide the powerful hydrotherapy jet action the client is expecting.
With variable-speed pumps (VSPs) now an option, their quiet, energy-efficient operation makes it easier to install equipment closer to the pool and hot tub as disruption is minimized.
Building pools with drop-in hot tubs
When installing the hot tub in the ground next to the pool it is important to pay special attention to the soil composition around the construction site. Ideally, the soil should be sandy, as this will allow water to drain properly. If the ground has a hard clay-like composition, water will not be able to drain properly, thus getting caught under the hot tub, and potentially cause the unit to float and lift out of the ground. Therefore, to be safe, it is important to install a drain under the unit.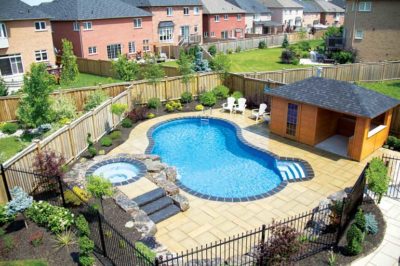 "We always install a drain on all drop-in hot tubs we install, just to be safe," says Paul Perciballi, owner of Perciballi Pools in Windsor, Ont. "We have been building pools with drop-in hot tubs since 1973 and we know there are many things that cannot be prevented or predicted.
"For example, in our area, the sewers and drains often get clogged in the spring after the winter ice melts. It not only floods basements, it can also lift empty hot tubs."
In this regard, it is also important the drop-in hot tub itself is completely supported under the unit's footwell. The unit should never be supported by the hot tub lip, as it is not designed to sustain any weight. Should a hot tub be supported in this fashion, the lip will flare and crack.