By Dave Hoffman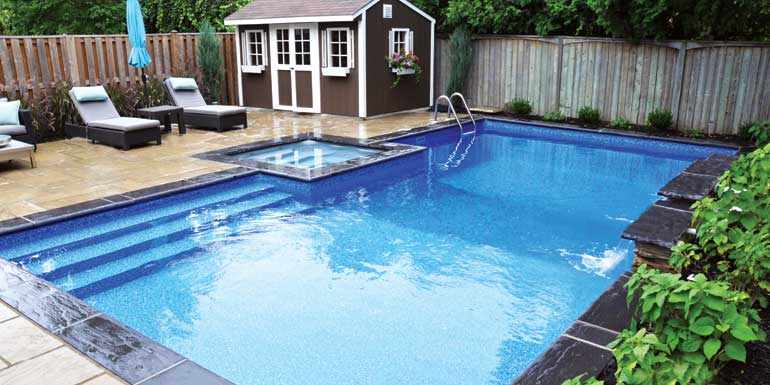 Hot tubs continue to be an important element for consumers when it comes to creating their backyard oasis. However, builders have not always been quick to capitalize on the benefits of marketing hot tubs when selling pools. Most tend to leave the selling of stand-alone hot tubs to outdoor living retailers, which also offer backyard furniture and other similar accessories. That said, by embracing hot tubs, whereby making them an integral part of a backyard pool design, builders are better able to distinguish their business from their competition. By adding a drop-in hot tub with the pool, builders can increase their profits on pool projects, while their clients get more enjoyment out of their backyard oasis.
Benefits of drop-in hot tubs
When discussing pool design options with clients it is important to sell the many benefits of having a hot tub attached to, or side-by-side with their pool. For instance, a popular trend today is integrating an outdoor kitchen and dining area nearby the pool and hot tub.
If the hot tub and pool are positioned too far from one another, the ability to create a cohesive outdoor living space can become hard to achieve.
One of the most obvious benefits of an adjacent hot tub is the fact parents can easily relax and enjoy the hydrotherapy benefits of the hot tub while supervising their kids swimming in the pool. In some cases, standalone units, which are positioned too far from the pool area, are not truly integrated into the backyard.
Another benefit is ease of maintenance, as drop-in hot tubs require less upkeep than a standalone unit because the former uses the pool's pump and filtration system, which also makes water chemistry easier. Waterfall (spill-over) hot tubs are further integrated into the pool, as the plumbing system must be designed to allow the water to circulate from the pool to the hot tub and vice versa.
Further, the pool water circulating into the hot tub is already 26.6 C (80 F) so it should only take an additional five minutes to heat the water to a comfortable 40 C (104 F) for hot tub bathing. As most pools are equipped with a heater that is sized for the pool, it makes heating the water much easier and more efficient than having a separate hot tub.
Finally, a drop-in spill-over hot tub also fills the need for those clients who also want a water feature or fountain effect in their backyard. The water spilling over from the hot tub to the pool provides the sounds of cascading water that many clients want as part of their backyard oasis.