Valve placement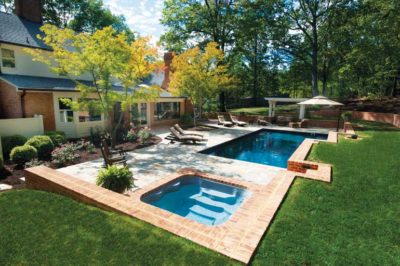 Typically, the equipment pad is located away from the pool and hot tub. However, some builders prefer to place the manual valves near the hot tub rather than in the equipment area for user convenience.
"We have always placed the equipment near the hot tub for ease of use," says Perciballi. "Today, however, there are many automated options that allow users to have remote control access to the operation of the hot tub, water temperature, and jet functions. Most homeowners prefer this type of operation."
When manual valves are used, there are several common mistakes that can occur as the homeowner becomes familiar with their pool/hot tub combination. The most common mistake is opening the hot tub suction, but forgetting to close the pool return. Another common mistake, which provides the same result, is closing the pool return, but not the pool cleaner.
"These user errors can be avoided by using the automation systems available today," says Perciballi. "We didn't have automation as an option for our customers 25 years ago, but we do now and our customers want automation, especially with a pool and hot tub combination."
Everything today is becoming automated; therefore, pool builders need to embrace this technology when installing pools with drop-in hot tubs. Today, homeowners who have a hot tub attached to their pool are looking to maximize their hydrotherapy experience. By installing an automation system, the homeowner can, at the touch of a button, easily switch modes from pool to hot tub.
More and more pool owners are now using their mobile 'smart' devices—from anywhere—to check their hot tub water temperature and/or make adjustments to ready their pool and/or hot tub for when they get home from work. Pool builders who do not embrace automation for their pool and drop-in hot tub projects are leaving money on the table. Even if an automation system is not installed in the first year, be sure to revisit the client a year after they have been manually adjusting the hot tub water and sell them the convenience of automation, as they will likely be much more interested.
Winterizing a drop-in hot tub
In the winter, it is important to never completely drain a drop-in hot tub because underground water can easily lift the unit out of the ground. As previously mentioned, in Canada, most homeowners keep their hot tub open into late fall-early winter, but still close the hot tub during the extremely cold months. That said, the hot tub should be winterized and water should be removed from the lines, but it is recommended the hot tub be 'weighted' during the months it is closed. Some service professionals will line the hot tub with vinyl and then add water for weight. Keeping water in the hot tub (up to normal operation level) will equalize any water pressure under the shell and prevent it from lifting.
A growing trend
Building pools with drop-in hot tubs is a growing trend. Builders are increasingly getting more requests from customers interested in having the exercise advantages of a pool and the relaxation benefits of the hot tub side-by-side. Further, drop-in hot tubs provide great profit margins and builders—as well as homeowners—are embracing the trend when it comes to new pool installations and/or backyard renovation projects.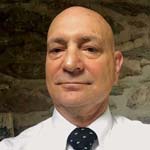 Dave Hoffman is the national service manager for Fox Pools. He has more than 35 years of experience helping builders with pool and drop-in hot tub installation projects. He can be reached via e-mail at dhoffman@foxpool.com.