Company profiles
Survey respondents' companies were just as diverse as the professionals they employ with respect to business size and average project value. Economic uncertainty and the unpredictability of the weather can take its toll on the pool and hot tub sector; however, the industry remains optimistic. When asked how profitability had been over the last five years, 64.5 per cent (5.5 per cent more than the year prior) said it had increased, while another 21.5 per cent said it had remained the same.
Social media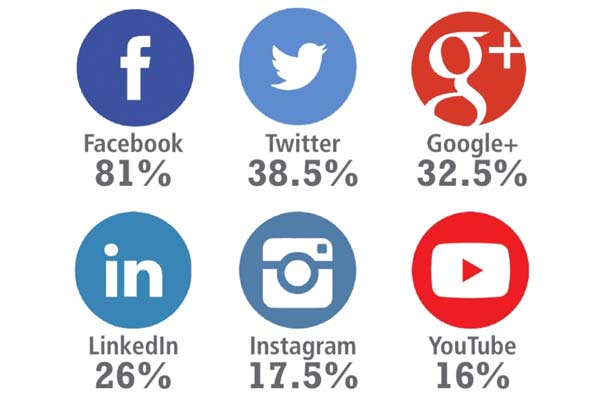 Social media platforms such as Facebook, Twitter, YouTube, and LinkedIn have become huge marketing outlets for businesses and are no longer optional. The analytic tools these websites and applications offer provide businesses with valuable information about their clients and potential customers and this has not gone unnoticed by those in the aquatics industry. Depending on the platform, in most cases, marketing campaigns can be set-up easily and for free. For the second consecutive year, Facebook leads the way, as 81 per cent of all respondents are using this social networking service. Twitter remains second at 38.5 per cent.
Looking into the future
There are many variables for pool and spa/hot tub businesses going into each season; therefore, predicting how successful they will be can be difficult. Despite this uncertainty, survey respondents are extremely confident in their businesses, along with the projects they build and products they sell, as 98 per cent said the next five years will be better than (60.5 per cent) or the same (37 per cent) as the previous five.
Weather/economy
Due to the nature of the products the industry offers consumers, the economy and weather are the main factors between a good, bad, or mediocre year. Take for instance a wet, cool spring like last year, which delayed the start of the pool building season (not to mention prevented current pool owners from swimming) could affect how many pools a builder can install in a given year. That said, poor weather combined with a bad economy can disrupt business success. While most large pool and spa/hot tub firms have survived many of these economic and weather-related ebbs and flows, depending on how severe they are, it is the smaller companies, or new start-ups that typically get hit the worst. When asked which has a more negative influence on business, 51 per cent said the economy (up seven per cent from last year), while 44.5 per cent said the weather, up 0.5 per cent year-over-year.
Industry associations
Professional associations help to connect similar businesses in the aquatics industry which all abide by a set code of ethics. These not-for-profit groups promote the safe enjoyment of pools and hot tubs by sharing their knowledge with others by providing its members with insight, guidelines and, in some cases, industry best practices and/or standards. Members include builders and contractors, retailers, service providers, manufacturers and distributors. Not surprising, 51.5 per cent of respondents (2.5 per cent more than last year) belong to the Pool & Hot Tub Council of Canada (PHTCC), while 28 per cent are members of The Association of Pool & Spa Professionals (APSP). Twelve per cent said they are members of the Association des commerçants de piscines du Québec (ACPQ), which is up five per cent year-over-year.
Crowning achievement
A year after one of the best seasons the pool industry has experienced in quite some time, when those in the field expressed an increased satisfaction with their careers, this year's survey revealed 46 per cent of respondents are 'more satisfied' with their job. This remains consistent with last year's survey, which reflected a 14 per cent increase over the 2015 survey. Another 43 per cent said they were 'equally satisfied,' which makes for a grand total of 89 per cent of all survey respondents who are happy with their current career. Only 11 per cent were 'less satisfied,' which was the same as the year prior.
Further, when comparing this year's trends to the responses we received five years ago (2013), just as the survey asks, the number of respondents who said they were "more satisfied" increased by eight per cent, while those who were "equally satisfied" also increased by eight per cent. Those "less satisfied" dropped by 15 per cent respectively.
What single thing will have the biggest impact over the next five years?
In addition to weather and the economy, respondents had several other opinions on what may or may not influence the pool and spa/hot tub industry, including:
"Better hiring."
"New technology development."
"Online sales, in-store displays, and training."
"Vehicle maintenance costs."
"Brick-and-mortar retailers have to learn to adapt to online competitors."
"Interest rates and housing market values."
"The affect of the minimum wage increase."
"Global economy and focused marketing efforts."
"Ability to attract and retain employees."